Erie Art Museum Features Two New Exhibitions: Out of Many – Stories of Migration & The Secret Life of Cows
The Erie Art Museum now features two new exhibitions including the photography exhibition Out of Many – Stories of Migration opening Feb. 25th, 2022, and painted portraits of cows in The Secret Life of Cows by Paula Garrick Klien opening Mar. 11th, 2022.
Out of Many – Stories of Migration is a series of exhibits, events and conversations centering around the work of five photographers working out of Pittsburgh, Pennsylvania. The project features the faces and experiences of multiple generations of migrants and immigrants, and their descendants.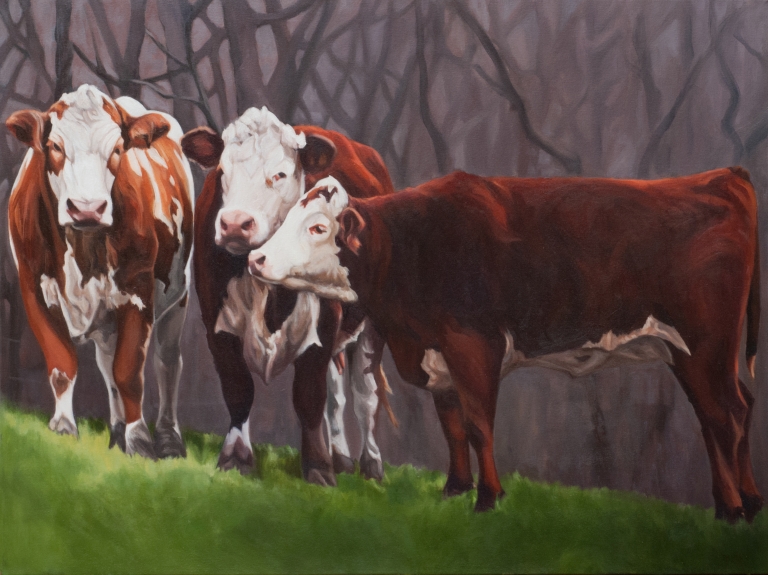 With original, contemporary photography and essays, Out of Many uses Pittsburgh's story as a lens through which to examine the broader American immigration and migration experience.
Curated by Laura Domencic and Brian Cohen, artists featured in Out of Many – Stories of Migration include photography by B
rian Cohen, Scott Goldsmith, Nate Guidry, Lynn Johnson and Annie O'Neill.
Artist statements, bios, and more can found on www.erieartmuseum.org/out-of-many
Funding for Out of Many is generously provided by: Opportunity Fund; Elizabeth Firestone Graham Foundation; The Fisher Fun
d of The Pittsburgh Foundation; Hillman Foundation; and The Heinz Endowments.
In The Secret Life of Cows, Paula Garrick Klein, an observational portrait painter, focuses on the last operating, small beef cattle farm in her suburban Pittsburgh neighborhood. She paints each portrait with the same intent that she brings to all portraits. Mesmerized by their actions and behaviors, Paula feels that, "each animal is recognizable as an individual, soulful and spirited, symbolizing a network and culture we can only imagine."
The Secret Life of Cows will be featured in the Holstein Gallery starting Mar. 11th, 2022.
The Erie Art Museum holds the region's leading art collection with more than 8,000 objects spanning American ceramics, paintings, sculpture, and photography. The museum regularly hosts special exhibits bringing art and inspiration to the community.
It also hosts lectures, educational programs and provides artists' services including interdisciplinary and interactive school tours.
The Erie Art Museum is open every Thursday and Friday, 2–8 pm, Saturday, 10 am–5 pm, and Sunday from 1–6 pm. The museum routinely posts updates on activities on social media — Facebook, Instagram, and YouTube.
For more info on upcoming programs, visit erieartmuseum.org or call 814-459-5477.
For more information, please contact Eric Dye, Marketing Director, eric.dye@erieartmuseum.org