Erie Art Museum Names Donna Douglass Interim Director As Search for Permanent Leadership Continues
As the Erie Art Museum's search for a qualified and inspirational new executive director continues, the museum is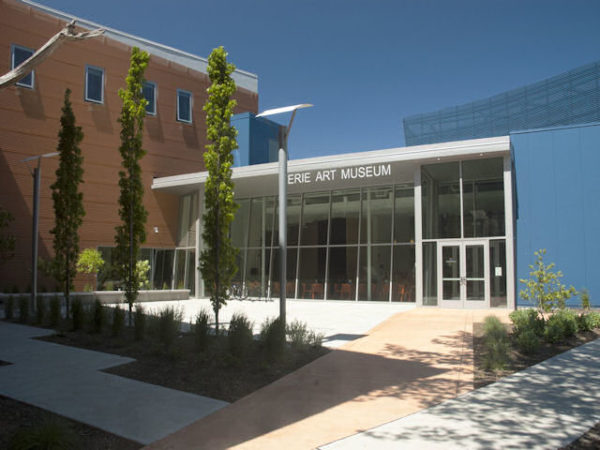 pleased to announce that Donna Douglass has agreed to serve as interim director, following Susan Black Keim. Keim filled that role for six months, leaving on Dec. 22, 2017, a mutually agreed-upon date for her departure.
"I can't begin to capture how grateful we are for what Susan accomplished in her short tenure as our interim museum director," says Stephen Porter, EAM board president. "Her insights and steady leadership proved invaluable. Following that, we're lucky to have Donna as our new interim director. As a former board member and an active participant in our fundraising activities, Donna knows the museum well."
Douglass has extensive nonprofit experience including serving as Director of Arts in Education at Arts Council of Erie, now Erie Arts and Culture, Executive Director of the YWCA of Erie, now Early Connections, and both Program Officer and Director of Donor Services at the Erie Community Foundation. She has a B.S. degree in Art Education from Edinboro University and an M.Ed. from Penn State in corporate development and training.
With the interim director transition settled, the EAM continues its search for a full-time executive director, an effort being led our Transition Team, chaired by board member and Chair of Edinboro University's Art Department, Jim Parlin, and supported by our search consultant Tom Moore.
"Having the strong interim team of Susan and now Donna puts us in the fortunate position to take our time identifying the right candidate to lead the museum into its next stage of success," added Porter. "In the meantime, the quality of programming at the museum has continued without missing a beat, thanks to the EAM staff and curator Susan Barnett."
Additionally, a number of significant multi-year gifts have brought a measure of stability to the museum's operational budget; the museum raised more than $1M in cash and pledges in the last six months of 2017, with many of those pledges extending five years or more. All of these efforts enable the museum to continue to play a vital role in the Erie Downtown Development Corporation's efforts to transform the downtown landscape.
"Our expanded museum facility helped pave the way for the Erie Downtown Development Corporation's vision for a thriving, livable and vibrant downtown neighborhood," said Porter. "The museum provides a cultural anchor for that effort and we look forward to helping this vision unfold."