By Lucas Scotts
Downtown Erie will come alive August 16th-19th, 2018 as wonderful sights, sounds and smells take over State Street.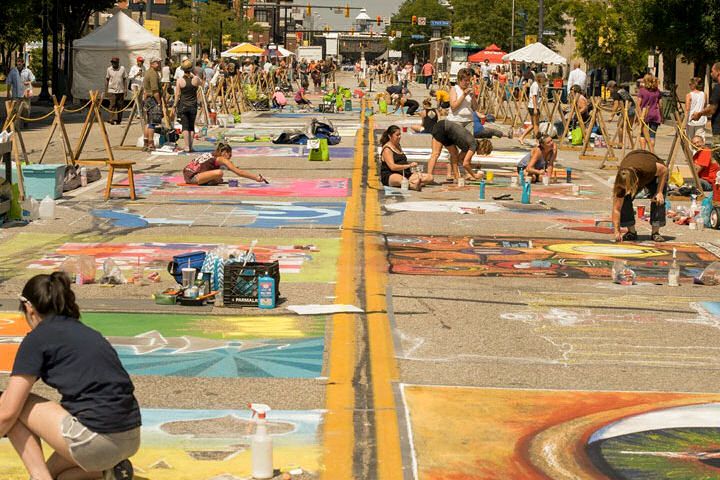 There are many things that Erie is famous for but the few things that make her beautiful are the majestic and fine arts along with the incredibly talented musicians that make the musical magic that is produced along her shoreline every week.
This weekend the streets of downtown Erie will turn into an artistically, musical extravaganza with over a hundred performers and artists.
CelebrateErie is an annual event, which in a short time has become, what seems to be a historical staple of our City's cultural and art scene. Thousands of attendees will have the chance to experience the taste of exquisite foods, be amazed by a variety of entertainers, and have the chance to view much of the area's most brilliant local art. The three and a half day event has something for everyone in the family, from the Kids Zone to the Cultural Event, the Learning Adventure to the Dancers, and from the Concessions to the Bands.
The festivities will begin Thursday with the annual Chalk Walk, an artistic collection of murals by local artists using pastels to bring their work to life along the center of State Street.
Also, throughout the event visitors will have the chance to view and purchase from local art vendors such as No Dress Code Studios, Simply Wild Studio, Phoenix Fire Glass, Blending Inspirations, METALHEADS, Eskaton Art, Mercy Maclay Art, Double LL Gifts, Pretty Little Beads, MakepeaceLiveWell, Rabbit Room Arts, Sir Doodle Grafx, Artlore Studio, HAAS IRL, Elaine Karas-Shadle, Kimkopy Printing, Glass Grower's Gallery, at the Artist Alley. The Artist Alley will be located on East Fifth Street between State and French Streets.
Throughout the downtown area will be stages for many performances such as demonstrations by Jennifer Dennehy and Samantha Cyparski, Steelhead Western Martial Arts, Hoop Dancing, Little Professor Clown – Balloon Artist, Mariana Syrotiak – National Marionette Theatre, Spotlight Dance Studio, Erie Bhutanese Youth Dancers, Erie Dance Theater, Bollywood Dances, TAAL: a revERIE of Indian Classical Dance and more.
All weekend long, many of the best and most talented musicians Erie has to offer will be taking the stage and rocking the block with their own unique sounds and styles. Included among these superstars of the Erie music scene will be Cult Classics, One World Tribe, Charles Brown w/Eric Brewer, Stix and Ralph Reitinger, Money Shot 2.0, Six Year Stretch, Smilo & The Ghost, Refuge, Brooke Surgener, Matt "Broke" Boland, Bayfront Dixieland Band, The LEC, Rooftop Project, Breeze Band, Monica Lewis, Steve Trohoske, First to Eleven, East Ave, Paper Matches, The Mulligans, Johnny Laroche, Ron Yaroz and The Vehicle, Mountain Thyme Ramblers, The Band Hamilton, Ruby Port, Twisted Lid, Gem City Revival, Mambo, Celtic Hooligans, The Groove, along with headliners The Erie Allstars Present Tom Petty, The Ohio Players, Sugar Ray, Dan + Shay.
This weekend be sure to make it down to CelebrateErie for an extravaganza of the most spectacular kind, filled with Music, Arts, Dance, and especially, everything Erie.
Make no excuses and have no regrets this weekend, be sure to visit CelebrateErie and experience the plethora of tremendous talent, sights and sounds that this incredible event has to offer.
For a complete list of events, performers and performances, along with schedules please visit Celebrate Erie's website.