Numbskull at the Oasis
By Terry Pentelli
This Friday night, April 4th at 9:30pm the super high octane party band "Numbskull" fires up a mad Rock N'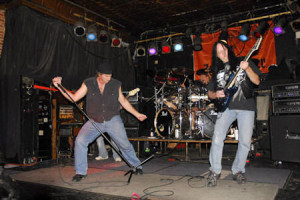 Roll frenzy at the Oasis that will rock the block and blow the roof off.
Located at 3122 W Lake Rd, the Oasis has every beer you can think of, from Guinness to Coors Light and an incredible menu of micro brews, and some of the best bartenders in town.
In addition, the Oasis has a killer selection of dinners and sandwiches at a price that is just right, not to mention some of the best live music in the area.
Every weekend the Oasis sizzles with the hottest bands around and delivers smoking hot shows that crank up the crazy, and rock the house.
Having the best bartenders, the smoothest drinks and the coolest bands every weekend, the Oasis is one of the hottest Westside spots.
With a hard-hitting and exciting stage show, phenomenal vocals and a set list that just won't stop, Numbskull gets down and dirty from start to finish, brings the noise and the party on overdrive.
With mad vocals, blazing instrumentals, and a kickass stage show, Numbskull gives their fans much more than just another night out, they set up the most intense party vibe with the most wicked attitude in town.
With bitchin' musicianship, and supercharged enthusiasm for their music, Numbskull is made up of Kyle Forbes on Bass Guitar and Vocals, Gary Tagliente on Lead Guitar, Michael Calabrese on Drums and Vocals, along with Jeff Crock as the front man and on Lead Vocals.
Every show Numbskull cranks out sick covers with a rock your world stage show that makes for the best Rock N' Roll party any night they play.
Among their set list of supercharged hits, Numbskull cranks out wicked covers of songs like "Would" by Alice In Chains, "Children Of The Grave" by Black Sabbath, "Crazy Bitch" and "Lit Up"  both by Buckcherry, "Two Minutes To Midnight" by Iron Maiden, and "Down With The Sickness" by Disturbed, along with "Wild Side" by Motley Crue, "Everything About You" by Ugly Kid Joe, "American Band" by Grand Funk Railroad, "Back in Black" and "Shook Me All Night Long" both by AC/DC, "Nothin But A Good Time" by Poison and so many more.
The hard-hitting and super, power packed sounds of Numbskull blasts out the best Rock N' Roll with blazing instrumentals, insane vocals, and monster party vibe, for the biggest blow out bash every time they take the stage.
Fueling the flames of good times and epic nights of rock till you drop madness, Numbskull guarantees this Friday night's show to be the hottest, most balls-to-the-walls wild night of the weekend, so come to Oasis and get your drink on at the hottest show this weekend, with the most insane band in town.
For more information on Numbskull, their booking and other show dates, please visit their Facebook page. For more information on the Oasis Bar and Restaurant and their upcoming shows, events, and other information, please visit their Facebook page.