The "Erie Biker Ball" at The Metropolitan Club
By Terry Pentelli
This Saturday April 26th from 4pm until Midnight, the Metropolitan Club located at 144 West 13th Street, revvs up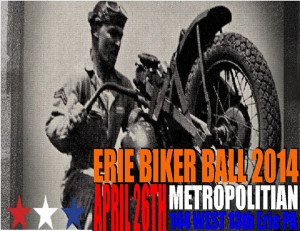 for the wildest and most wicked night of Rock N' Roll madness of the year with the fourth annual Erie Biker Ball.
The Erie Biker Ball has been organized as a charity event that will benefit Bikers Against Child Abuse (BACA), the Second Harvest Food Bank, and The Erie Soldiers & Sailors Activity Fund.
The entire night of pulse pounding, rip-roaring entertainment kicks off at 5:00pm, and will last until 12am, and will feature an insane lineup of Erie's most kickass bands that include Leader Of Men, Kevlar, Hammerd, Refuge, and French Kiss, along with a bitchin after party at Scooter's with Hammersmith live on stage.
The Erie Biker Ball is guaranteed to be the biggest knock down drag out night this weekend, not to mention the only way to kick off bike season.
As the night's host and MC, DJ Bill Page makes every show a real badass bash, spinning the maddest jams in town, and cranking out the best pulse pounding, heart throbbing music in Erie.
With Erie's hottest biker DJ, Erie's hottest bands, at the biggest, most slammin, pulse pounding, heart throbbing blow out bash of the weekend, the Erie Biker Ball is no doubt the most awesome party in town this weekend.
Bringing the noise and burnin down the house, Leader Of Men takes their mega talent, raw energy, and mad musicianship to the extreme, getting down and dirty with mind-warping instrumentals, and sick set lists that will dominate the house Saturday night, and always paves the way to the party.
As a supercharged force in our City, Leader Of Men is made up of local musical icons Blaise Brutto on Lead Vocals, John Brutto on backing vocals and all guitars, Jimmie Gillespie on Bass and Jim Horne on Drums.
With a high-throttle stage show, Leader of Men pounds out raging covers of songs like "Highway To Hell" by AC/DC, along with so many other devastating covers of groups like Nickelback, Godsmack, Seether and Disturbed.
With high-energy shows, in-your-face bombardment of good times party attitude, and massive insane set lists, Kevlar guarantees the most, crazy blitz of good times and sizzlin' hot music in town.
Busting out the monster musicianship with melt your mind energy, Kevlar is Jacob Flaugh on Guitar and Vocals, Anthony Sanzo on Bass Guitar, Nick Sanzo on Drums and Vocals, with Brian Lowery on Guitar and Lead Vocals.
One of the most intense and hard driving bands of the night is Hammerd, who really knows how to crank the party up with smokin' covers of incredible hits from Motley Crue, Def Leppard, Bon Jovi, Whitesnake and Poison to Ozzy, Iron Maiden, Queensryche, Dio and the Scorpions along with too many more to name.
With that high-energy, party till you drop style, Hammerd is Christopher Shaner on Lead Vocals and Guitar, Brian Warzynak on Guitar and Vocals, Brian Lorei on Drums and Trevor Vogt on Bass and Vocals.
With super high throttle Country hits like Brooks & Dunn's "Honky Tonk Stomp" and" Smoke A Little Smoke" by Eric Church, "Crazytown" by Jason Aldean, and Luke Bryan's "Rain Is A Good Thing", Refuge gives outrageous performances with the most shocking stage shows, and the most tremendous energy on overdrive vibe at every show.
Made up of many of the most talented musicians in town, Refuge is Ryan Krysiak on Lead Guitar, Marlay Shollenberger on Lead Guitar, Corey Williams on Drums, Tim Reed on Bass Guitar and Vocals along with Dan Baney on Lead Vocals, Rhythm Guitar, and Harmonica.
Bringing the crazy and the cool, French Kiss will blow up the ball with their supercharged covers of hits like "18 and Life" by Skid Row, "Pour Some Sugar On Me" by Def Leppard, "Vacation" by The Go-Go's, "Love Is What I Got" by Sublime, "Sweet Child O' Mine" by Guns 'N Roses along with "Every Rose Has Its Thorn" and "Look What the Cat Dragged In", both by Poison and many more hit tunes of the time.
Made up of members David "Hollywood" Dunn on Lead Guitar, Trevor "T-Rev" Vogt on Bass Guitar and Lead Vocals, Josh " Roxie Love" Snider on Lead Guitar and Backup Vocals, and Jeffrey Pixie "Styxs" Snider on Drums, French Kiss always gives the hottest show in town.
Always over the top, and never even close to ordinary, French Kiss constantly devastates their audiences with their talent rich instrumental work, massive stage presence, and 80's Rock style that just won't quit.
After the most epic night at the Metropolitan, where the most killer bands in town have rocked your world and blown your mind, if you can still stand, head over to Scooter's for the official Erie Biker Ball After Party where Hammersmith will claim what's left.
From 12am until 2am, Hammersmith will bring the madness and the mayhem, and party like demons and Rock N' Roar until you can't take no more.
Hammersmith is Bill Bainbridge on Lead Guitar and Vocals, Mike Isbell on Bass Guitar and Vocals, Mike Howard on Drums and Percussion along with Ed Little on Lead Vocals and Guitar and Roshell Schenk on Vocals.
With sick insanity and a slaughtering party attitude, Hammersmith pummels you with ferocious covers of everything from 70's, 80's, 90's and today including "Outshined" by Soundgarden, "Enemy" by Godsmack, "Hellion" and "Electric Eye" by Judas Priest, "Wrathchild" by Iron Maiden, "Something in Your Mouth" by Nickelback, and "Firewoman" by The Cult, along with too many more to name.
Saturday night rock for a cause and don't be any place else but the fourth annual Erie Biker Ball, for the biggest bash, the most outrageous night of unbelievable beats from six of the most balls-to-the-walls bands, and the most ridiculously wildest ride of the weekend and get hammered all night long, at the hottest, most bitchin' event of the weekend.
Tickets for the Erie Biker Ball are only $20 advance, and $25 at the door, and are available at both Harley Davidson Of Erie & Scooters located at 2802 Old French Rd. The event will include .50 Cent Biker Beers, Tray food welcomed, No BYOB.
For more information on the Erie Biker Ball, please visit the Facebook Page or their FB Event Page.