Dancers Open with 'Midsummer Night's Dream'
The Mercyhurst Dance Department kicks off its 2014-15 season on Nov. 7-9 with a performance filled with fantasy,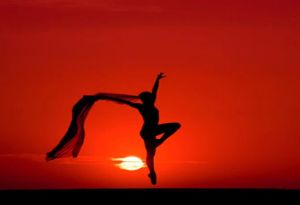 woodland fairies and the mischievous antics of nymphs and sprites. Bring the family and enjoy the comedy, romance and beauty of Shakespeare's A Midsummer Night's Dream performed by The Mercyhurst Dancers to Felix Mendelssohn's delightful score. The dance department is partnering with the Regional Cancer Center for this production to raise awareness of cancer in the Erie community.
In addition, 12 dancers will be showcased in the world premiere of Pixels, choreographed by internationally recognized choreographer Rick McCullough. "Pixels will open the program with a contemporary portrayal of pixies impishly frolicking and casting amusing magical spells of glee and happiness," says Artistic Director Tauna Hunter. "Rick was wonderful to work with, challenging the dancers with precision, while exploring the music of Steve Reich's Drumming. Pixels is definitely a visual portrayal of the music."
Performances are in the Mary D'Angelo Performing Arts Center on Friday, Nov. 7, at 4:30 p.m.; Saturday, Nov. 8, at 2 and 7 p.m.; and Sunday, Nov. 9, at 2 p.m. Following the Friday and Saturday evening performances, meet and talk with the dancers and choreographers at the "Talk Back" session.
Tickets are $15 for adults; $10 for students and seniors; $5 for Mercyhurst students and children 12 and younger; and $7.50 for President's Card holders. Anyone presenting a Regional Cancer Center ID can attend for $5. To reserve seats, call 814-824-3000.
The dance season continues with the family holiday favorite 'Tis the Season with Babes in Toyland on Dec. 5-6; Beyond Words IV featuring Mercyhurst Ballet Theatre and SoMar Dance Works Feb. 20-22; and Raw Edges, the annual showcase of student choreography, May 1-3.