25th Annual Blues & Jazz Festival
By Kimberly Eddy
The Annual Erie Art Museum's Blues & Jazz Festival returns to Frontier Park to celebrate its 25th year on Friday,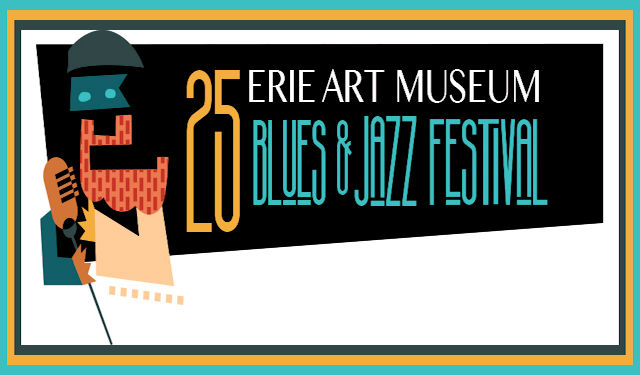 August 4 through Sunday, August 6, 2017. The Festival runs for three days, noon until 10:00 p.m., at Frontier Park, on the corner of West 8th Street and the Bayfront Parkway in Erie, PA. The Festival is the largest of its kind in the region and is uniquely produced by the Erie Art Museum.
The Erie Art Museum Blues & Jazz Festival annually attracts more than 20,000 visitors for the musical acts that range from regional favorites to international superstars.
The Museum had launched a crowd-funding campaign on Kickstarter Campaign to raise funds for the Festival with public support. The goal exceeded its Kickstarter funding goal by over $2000, which would allow the Museum to "break even" on the annual free festival. To donate to the Festival please visit: http://erieartmuseum.org/blues-jazz-festival-donation/
Another exciting way to support the Erie Art Museum while enjoying the Festival is through the Goose Island VIP Tent! You no longer have to haul your cooler to the park. Please stop by the Goose Island Beer Garden and enjoy a refreshing beer (21 years old or older). Guests can choose to stay in the Goose Island VIP Tent, which offers a prime viewing area of the Festival in the shade. The fee to attend the Goose Island VIP Tent is $25, with admission for the entire weekend and the first beer free. All proceeds from the sale of beer will support the Erie Art Museum Blues & Jazz Festival.
The 25th Annual Blues & Jazz Festival Line up:
Friday from 3 – 8 pm and Saturday 11 am to 2 pm:
Art Acts: Performances and interactive workshops with artists, performers, musicians and puppeteers from the Cleveland Museum of Art's Department of Community Arts. Giant puppets, stilt walkers line dancing and spin the wheel for Surprise No Prize. Food Truck Friday: local food trucks line Lake Erie Arboretum at Frontier (LEAF) Elm Allée on Sixth Street (Friday only).
Friday from 3 – 8 pm/Saturday starting at 11 am/ Sunday at noon:
Northwestern Pennsylvania Artists Association exhibition opens at LEAF Education Center building. Paint a Mural with artist Mark Weber. Explore music-making at the Erie Philharmonic Jazz Instruments Petting Zoo. Help LEAF prune the living Willow Art installation. Erie County Library system will be on hand with local music project and kids STEAM activities. Poetry workshop with Erie County Poet Laureate Marisa Moks-Unger, hula hoop workshop with Jen Dennehy, and many more family-friendly interactive workshops.
Friday at Sunset:
A special double-feature version of LEAF's Movies in the Arboretum.
Saturday:
2 pm: Eric Brewer & Friends, guitar blues leavened with funk and jazz
4 pm: Rodger Montgomery Blues Band, straight ahead blues from veteran bluesman*
6 pm: Eddie Turner and Trouble, blend of voodoo blues, R&B and African rhythms
8 pm: Mokoomba, high energy Afro-Pop from Zimbabwe
Sunday:
Noon: Stephen Trohoske's Art Groupies, contemporary jazz that bops and swings
2 pm: The Breeze Band with Youthful Talents, outstanding young Erie musicians featured with Breeze Band's mix of classic R&B, soul, and blues
4 pm: Mary Alice Brown Quartet, vocal and keyboard by Erie's Queen of Jazz*
6 pm: Russell Malone Quartet, swinging jazz guitar with elements of blues, gospel, and R&B
8 pm: Trio 3 – jazz giants Oliver Lake, Reggie Workman, and Andrew Cyrille
Major sponsors include: Erie Arts & Culture, The Erie Community Foundation, Giant Eagle, UPMC Health Plan, WQLN Media and Connoisseur Media.
Festival merchandise for purchase includes limited edition organic cotton t-shirts, posters and a variety of items for the kids such as instruments, bubbles, and glow-in-the-dark necklaces. Local vendors will cook-up festival fare ranging from Bite By the Bay – Smith's corn dogs, funnel cakes, deep fried Oreos, steak or chicken fajitas, taco salad, Connie's Ice Cream – hot fudge sundaes, Nutty Buster, milkshakes, root beer floats, Lombardo's Pita Place – wraps, Philly cheese steaks, Dickey's BBQ pit – beef brisket, pulled pork, smoked chicken breast, pork ribs, barbecue beans, mac & cheese, cole slaw, potato salad, and Buckeye Concessions – kettle corn, cinnamon nuts, fudge, funnel cakes and lemonade.
Again, this year, the Festival has partnered with Waste Management, the Lake Erie Arboretum at Frontier Park and WJET-TV, Fox 66, and YourErie.com build upon the Festival's efforts to reduce the environmental impact and to create awareness of the need for environmental stewardship.
The public can support the Festival's efforts in the following ways:
You can support our efforts in the following ways:
Recycle what you bring – no styrofoam, foil or other non-recyclable materials. Recycling containers are located throughout the Festival grounds.
Walk or ride your bike to the Festival.
Going green supports the Museum's sustainable operations in our community. Consider becoming a "Green" Member of the Erie Art Museum.
Ride the E park-and-ride shuttle.
Fuel your cell phone and plug-in using solar power! Thanks to Vance Lupher for providing My Electric Cart, the portable solar electric generators for powering cell phone charging stations at the Information Tent.
The Erie Art Museum and our food vendor partners are doing our part, too:
No Styrofoam, foil, or petroleum-based plastics are used. Serving cups, plates, and utensils are biodegradable.
Condiments are in "pump" style dispensers, not individual packets.
Festival guide is printed on recycled content paper that is 30 percent post-consumer waste.
All Festival t-shirts are 100 percent organic cotton. Other GREEN efforts also are being implemented throughout the Festival's operations.
Bring a blanket, lawn chair, or even a canopy tent (see tent policy below).
A wide variety of Festival fare from local vendors is available for purchase.
Coolers are permitted.
PETS ARE NOT PERMITTED on Festival grounds; owners with pets will be asked to leave.
No unauthorized sales or solicitations.
The Erie Art Museum enforces a strict tent policy that regulates physical tent placement as well as tent set-up time. The Erie Art Museum will not permit any tents to be set-up prior to 9 a.m. on Saturday, August 5. All tents set up prior to this time will be taken down and can be redeemed at the Festival's Information Tent. Additionally, please note that overnight camping at Frontier Park is against City of Erie ordinance, as is open-flame cooking (e.g., charcoal grills and turkey fryers), and the City of Erie police strictly enforce this rule. Propane grills are permitted.
Thanks to our sponsors, Festival performances and activities are FREE for all! The Erie Art Museum asks for your support by donating to the Festival's Bucket Brigade; volunteers will circulate throughout the event and we ask that all adults donate a minimum $10 each. All donors giving $10+ will receive a limited-edition Festival button as a "thank you." All funds raised will help offset Festival costs.
For Festival policies, visitor tips, and more information, visit erieartmuseum.org.
[pdf-embedder url="http://erijams.com/wp-content/uploads/2017/08/jazzfestivalschedule.pdf"]