Academy Theatre Begins Work on "Shrek the Musical"
Everyone's favorite jolly green giant will be lumbering to a stage near you in just a few weeks, as the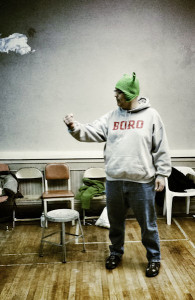 Academy Theatre presents "Shrek The Musical" on April 4, 5, 6, 11, 12 & 13; Fridays and Saturdays at 7:30 p.m. and Sundays at 2 p.m. at 275 Chestnut Street in Meadville. Tickets are $12.50 and $14.50 and can be purchased by calling the Academy Theatre Box Office at 814-337-8000 or by visiting www.theacademytheatre.org.
The cast and production team are already hard at work bringing this Fractured Fairy Tale to life on stage, a complicated process which not only means "Ogre-izing" the big man himself but involves creating a kingdom "Far, Far Away," assembling a team of your favorite fairytale characters, and corralling a giant, fire-breathing dragon. Be ready to watch the beautiful Fiona transform right before your eyes! Costume designer PJ Vogt has been hard at work creating the magical looks audiences will see on stage. "Shrek," her fifth costume design for the Academy, presents a unique challenge. "This show is unique, I can't pull a Shrek ensemble out of our costume shop, and I definitely don't have a dragon costume in there.  It's the challenge that I love, how much can I do, how big can I take it!"
"Shrek the Musical," based on the Dreamworks Animation motion picture, brings Shrek from screen to stage, follows the same beloved tale. When the evil Lord Farquaad bans all fairytale creatures of the kingdom of Duloc, they are relocated to Shrek's swamp. In order to regain his peace and quiet, Shrek agrees to help Lord Farquaad by rescuing Princess Fiona, who is destined to be Lord Farquaad's bride. But, true to this "no ordinary fairytale's" tale, the happy ending isn't quite what anyone expected.
Fresh from its successful Broadway run and U.S. tour, "Shrek the Musical" is sure to delight local audiences. Under the musical direction of Sue Scott, songs like "I Know It's Today," "When Words Fail," the popular "I'm A Believer," will have audiences tapping their toes and even singing along  to every tune. Pit Director Irene Kipp is excited to be bringing live music to "Shrek the Musical."
Choreographer Sylvia Cagle has designed jaw-dropping dance numbers sure to inspire awe in all audiences. A graduate of Mercyhurst College with a BA in Dance with a concentration in Choreography, Cagle is thrilled to be tackling her first musical. "Choreographing a musical is a new challenge. You have to make the various numbers each have their own flavor, but also form a cohesive show. Plus it has to have that razzle, dazzle; that's the fun part!"
The production team is hard at work creating a magical world sure to transport both young and old. The cast of 50 is led by director Jessica Sakal. Sakal, a theater veteran in nearly every aspect, is known for her incredible vision. In past seasons at the Academy Theatre, Sakal has directed "Into the Woods," "Camp Rock," and "Seussical." She also boasts a heavy resume of design and acting credits, having been involved in Academy Theatre productions since 2000.
"Shrek the Musical" opens April 4 at the Academy Theatre. For more information, call 814-337-8000 or visit www.theacademytheatre.org. Your seat is waiting!