Academy Theatre Brings Poinent Arthur Miller Play To Life
"A View from the Bridge" Brings Meadville Stars Together
The Academy Theatre presents A View from the Bridge January 3 and 4 at 7:30pm and January 5 at 5:00pm at the Academy Theatre's Hempstead Theatre, 275 Chestnut Street in Meadville.  Tickets are $8.50 and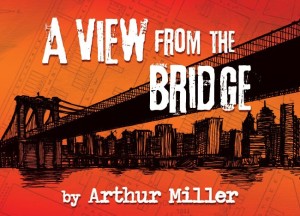 $10.50 and can be found at www.theacademytheatre.org or by calling 814-337-8000.  Please note that the Sunday performance is at 5:00pm, as our Sunday performances are normally matinees.  Once you see the show, you'll know the reason for the change.
The play is set in 1950s America in an Italian American neighborhood near the Brooklyn Bridge in New York City.  Eddie has an almost inappropriate obsession with Catherine.  Can true love conquer all?
Ted Watts, Jr. is directing this Arthur Miller classic.  The venue is the intimate Hempstead Theatre at the Academy Theatre.  There will be nothing for the actors to hide in this small space, which is perfect for the emotional plot of this play.  Watts, Jr. has worked as a professional actor in Pittsburgh, and has the honor of being part of the masters program at The Actor's Studio in New York City.  It is incredibly exciting that the Academy Theatre is able to bring him to our town.
Almost more incredible is the fact that Ted Watts, Jr. has the opportunity to work with his father again on this project.  You may remember that in 2011 Ted Watts Jr. and Sr. squared off on stage in the Academy Theatre's Frost/Nixon to rave reviews.  That performance was called mesmerizing and phenomenal to watch.  This time it is Watts, Jr. in the director's chair and Watts, Sr. is playing the leading role of Eddie.  This team will again bring that special something to A View from the Bridge.
Playing opposite Ted Watts, Sr. in the leading female role is P. Todd Fox.  Most recently Fox has been seen in Meadville Community Theatre's Circle Mirror Transformation.  Fox brings with her a wealth of experience, having done regional professional theatre as well as many local Crawford County community theater productions.  Her role of Beatrice is sure to be another stellar performance.
You will surely recognize at least a few of the other actors in this amazing cast: Joe Galbo, Anne Leonard, Nick Mitchell, Lou Rich, Darrel Whitney and Chris Yohe.  With all this talent from near and far, a venue like no other, and a classic Arthur Miller script, A View from the Bridge is not to be missed.
For more information about A View from the Bridge, please call 814-337-8000 or visit www.theacademytheatre.org.
Your seat is waiting!