Academy Theatre's Youth Celebrate The Spirit Of Christmas
"Bah Humbug" Brings Music to Dickens' Classic Tale
The Academy's Youth Theatre presents Bah Humbug! Scrooge's Christmas Carol December 20 and 21 at 7:30pm and December 22 at 2:00pm.  Tickets are $8.50 and $10.50 and can be found at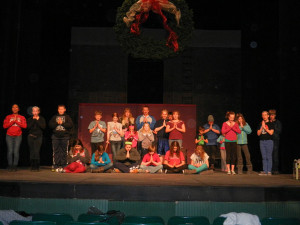 www.theacademytheatre.org or by calling 814-337-8000.
Caring for those less fortunate is highlighted in this show, and during this time of year, and the Academy Theatre wants to do its part.  Bring in three canned goods, one for each of Dickens' Christmas Spirits, and receive $1.00 off your ticket.  The Center for Family Services will receive these donations, and we are happy to be able to partner with them.
Charles Dickens' A Christmas Carol has become a classic holiday tale.  Bah Humbug! puts this tradition to music and is performed by the next generation of  local performing talent.  It is a heartwarming story with common themes to all of Dickens' work that resonate particularly well this time of year.
Queen Victoria said of Dickens, "He had such a large, loving mindfulness and the strongest sympathy for the poorer classes; He felt sure a better feeling and much greater union of classes would take place, in time. And I pray, earnestly, it will."  This sympathy is felt in the tenderness of the portrayal of the Cratchit family, the playful spunkiness of the street waifs, and the final transformation of Scrooge himself.
And who better to give this timeless show life than our local youth?  The talented cast is Erika Brockman, Brooke Charlton, James Concannon, Raina Concannon, Corrina Del Greco, Hannah DeWalt, Katie Dietrich, Braden Green, Karayah Hamilton, Livia Homerski, Carson Jones, Madison Kreider, Emily Li, Isabella Linz, Bethany McMurdy, McKenna Mercier, Jonathan Merrit, Drew Miller, Tessa Miller, Bailey Pearson, Duncan Prather, Lindsey Sekerski, Kayla Styborski, Isabel Travis, Georgie Volna and Makaela Volna.  Rounding out the group are a few adults; Sylvia Cagle, Ken Neu, Susan Volna, and Geoff Hall brings Scrooge to life.
Just in time for the holidays, here is a reminder about the gift options available at the Academy Theatre this season.  Gift cards are perfectly sized for stocking-stuffers or that special gift for the theatre lover in your family.  The Academy's Select Card option gives you the flexibility for savings on your perfect season.  The Select Card entitles you to eight tickets to Academy Theatre Productions for $80 (some variations apply for Special Events, call the Academy Theatre for details).  Use all eight tickets for one show, or spread them out over multiple shows.  It's up to you!  For the true theater fan, it's not too late for the Build-Your-Season option.  Order tickets to at least five productions or events during the season in one transaction, and receive a 10% discount and the comfort of your same perfect seat for each show.
For more information about Bah Humbug, please call 814-337-8000 or visit www.theacademytheatre.org.
Your seat is waiting!