An Evening with Judy Collins
Mary D'Angelo Performing Arts Center
Thursday, April 26, 2018 – 7:30 pm
Judy Collins has inspired audiences worldwide with sublime vocals, boldly vulnerable songwriting, personal life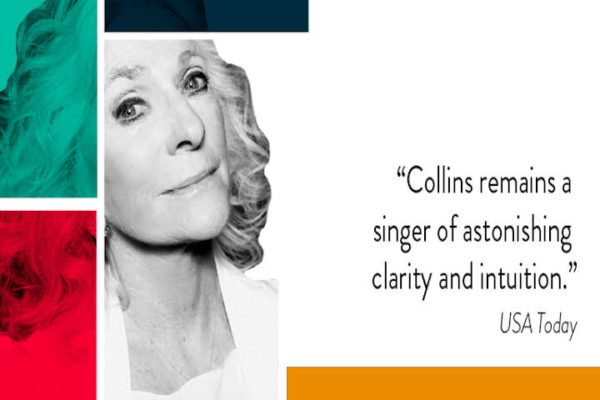 triumphs and a firm commitment to social activism. In the 1960s, she evoked both the idealism and steely determination of a generation united against social and environmental injustices. Five decades later, her luminescent presence shines brightly as new generations bask in the glow of her iconic 50-album body of work.
A classical piano prodigy, Collins turned to folk music early on, embracing the social and musical elements of the movement. In 1961, she released her masterful debut, A Maid of Constant Sorrow, which featured interpretative works of social poets of the time such as Bob Dylan, Phil Ochs and Tom Paxton. Around this time, Collins became a tastemaker within the thriving Greenwich Village folk community, and brought other singer-songwriters to a wider audience, including poet/musician Leonard Cohen and musicians Joni Mitchell and Randy Newman. Her performances since the mid-70s have balanced original material with interpretations of songs by artists such as Pete Seeger, Joan Baez and Stephen Sondheim.
Collins, now 78, is as creatively vigorous as ever, writing, touring worldwide and nurturing fresh talent. She is a modern day Renaissance woman who is also an accomplished painter, filmmaker, record label head, musical mentor and an in-demand keynote speaker for mental health and suicide prevention. She continues to create music of hope and healing that lights up the world and speaks to the heart.
TICKETS:
Adults: $30
Seniors: $25
Students/Youth: $20
The 2017-18 MIAC Live season is made possible through the generosity of Dr. & Mrs. Robert Guelcher, Cumulus Media and the Erie County Gaming Revenue Authority.
SPONSORS:
Kidder Wachter Architecture & Design
Kidder Wachter Jeffreys Construction LLC
Arthur J. Gallagher & Co.
WSEE – The CW
COMMUNITY PARTNER:
Stairways Behavioral Health
More information http://miac.mercyhurst.edu/events/an-evening-with-judy-collins/