Author Marilyn Celeste Morris Contributes to American Military Family Museum
Shares Portion of Her Book for Display
As we are increasingly aware, over 1000 of our WWII veterans are dying every day,leaving their grown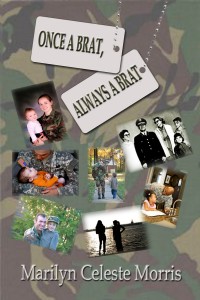 "Military Brats" to tell their stories of being deployed overseas with the American Occupation Forces. Ms. Morris was part of that movement, at eight years of age, receiving her very own orders from The War Department to join her army officer father in Seoul, Korea, in 1947..
Her recently released book, Once a Brat, Always a Brat, has been described as "part travelogue, part therapy session" while the second half, containing other Military Brats stories, has been called by Dennis Campbell of BratCon Radio, as "a field manual for understanding Military Brats."
Ms. Morris explains why this subculture claims a fondness for the term, "Brat", as it does not connote to them "an unruly child," but iis, rather, taken from the British Military, who stamped children's papesr with the initials, "BRAT", meaning British Regiment Attached Traveler."
She relates how the family adapted to somewhat primitive living quarters in Korea, with no running water, sporadic electricity, a woodburning stove and an icebox.
How she, and other Military Brats, adapted from an ancient Oriental culture in one year, to exploring castles in Bavaria the next. is the focus of Once a Brat, Always a Brat, which is available on Amazon.com and Kindle.
Once a Brat, Always a Brat $.12.50
https://tsw.createspace.com/title/4523759
Kindle Link: $4.99
http://www.amazon.com/Once-Brat-Always-Marilyn-Morris-ebook/dp/B00HX2VXPY/ref=sr_1_1_title_1_kin
Ms. Morris ' other works can be found through her website:: MarilynCelesteMorrisAuthoAndEditor.blogspot.com
Marilyn Celeste Morris is a multipublished author of Ladies of the Club, (WWII era Historical Novel) Storm Warning (Mainstream Fiction) Volumes One and Two in a proposed Sabbath Trilogy: Sabbath's Gift and Sabbath's House, (Supernatural Mystery) and My Ashes of Dead Lovers Garage Sale, a collection of humor/human interest columns written over ten years for a weekly suburban newspaper. She also has written two non-fiction books, Once a Brat, Always a Brat, "part travelogue, part therapy session" about her world-wide travels with her army officer father from her birth in 1938 to his (their) retirement in 1958. Her other non-fiction work is What's Lupus: Ask Somebody Who Has It, which relates her own struggle for diagnosis and treatment of this immune disorder, with comments from other "Lupies," and the criteria for diagnosing SLE (Systemic Lupus Erythematosus.) Her most recent novel is The Unexplored Heart, a Victorian era romance/adventure, and a sequel, After Camelot: Esther's Quest will be released soon.
She is a strong supporter of the North Texas Chapter, Lupus Foundation of America and counsels newly diagnosed persons and their families about the ravages of Systemic Lupus Erythematosus. Marilyn has taped various radio interviews, local cable television programs, and is accustomed to speaking to groups about Lupus; the Life of a Military Brat, and The Pleasures and Perils of Being a Published Author.
She lives in Fort Worth TX with a neurotic black cat named Cleopatra and her grown son who does all the "heavy lifting" in the house and yard. Marilyn has three grown children and three grandchildren who live too far away for her liking. She is an omnivorous reader "reading almost anything," she says, and watching the Discovery and History Channels.