Boston Symphony Orchestra Breathes Compelling Life into 'West Side Story' Film
It is an arduous task to attempt to breathe new life into a film classic, but that is just what the Boston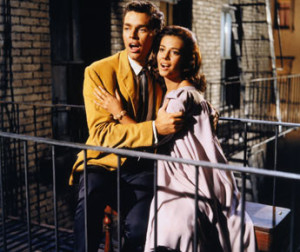 Symphony Orchestra accomplished with Leonard Bernstein's 1961 romantic musical tale based on William Shakespeare's 'Romeo and Juliet,' 'West Side Story' on a snow stormy night Saturday, February 15. Despite the harrowing weather, audience members gathered for a startlingly rich, unique experience with a live score from one of the most renowned symphonies in the world. Click here to learn more about Leonard Bernstein's Oscar-winning film, 'West Side Story,' starring Natalie Wood, Richard Beymer, George Chakiris, Russ Tamblyn, and recent Screen Actors Guild lifetime achievement award recipient, Rita Moreno.
David Newman, celebrated music conductor for film, warmed up the orchestra as audience members overheard familiar snippets from upcoming numbers such as 'Tonight,' 'Dance at the Gym' and 'The Rumble'. Newman has scored over 100 films, including 'Heathers,' 'Matilda,' 'War of the Roses,' 'Ice Age,' 'Throw Mama from the Train,' and 'The Nutty Professor.'
The intense overture, each crisp note from the orchestra, and the sound that thundered in Symphony Hall was nothing that can be relived in front of a television screen or in a movie theatre. It felt like being in the studio with the cast, enhancing their already outstanding performances, scoring the film for the first time.
As the digitally enhanced, 50th Anniversary of 'West Side Story' graced the movie screen towering over the orchestra, dance scenes burst with color and beauty, enhancing the perfect acoustics of each vocal performance soaring over the audience, such as with Rita Moreno's 'America'. Other song highlights included the striking 'Dance at the Gym,' the sweet harmony of 'Tonight,' the quietly powerful 'Cool,' and the booming horns of 'Gee Officer Krupke.'
Leonard Bernstein's 'West Side Story' was presented by host Ron Della Chiesa live on WCRB 99.5 FM for one night only and is not available on Boston Symphony Orchestra's podcast.
The Boston Pops will next present a live music presentation of the beloved family classic 'The Wizard of Oz' on Saturday, May 10 and Sunday, May 11. Visit www.bso.org for more information and the array of upcoming events with the Boston Symphony Orchestra and beyond!