DSP Shows Presents John Popper (of Blues Traveler)
Tuesday, April 2nd  Live in Asbury Hall at Babeville 
John Popper (of Blues Traveler) performs in Asbury Hall at Babeville on Tuesday, April 2nd. Tickets : $35 advance, $40 day of show General Admission Seated at Ticketfly.com, Babeville Box Office (M-F 11a-5p), Terrapin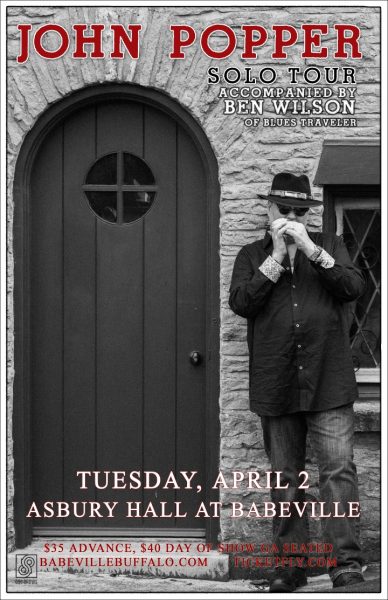 Station, Rust Belt Books, or charge by phone 866-777-8932 
Doors open at 7:00pm, show starts at 8:00pm. 
One of the most iconic harmonica players in history, John Popper is a virtuoso musician who has expanded the possibilities of the instrument for future generations. He is best known as the frontman and creative force of seminal jam band Blues Traveler, which he formed with high school friends in Princeton, NJ in the late '80s and led to mainstream success with 1994's Four.
With skills honed both classically, at New York University's The New School, and in the crucible of the 90s New York City jam scene, John has perfected the ability to cross all musical boundaries and genres. Over an illustrious 30-year career, he has sat in with acts as diverse as Phish, B.B. King and Metallica among many others.
John's solo show, with piano accompaniment from fellow Blues Traveler Ben Wilson, is an opportunity to share in this wealth of experience in an intimate setting. Pull up a chair and enjoy as John tells some of the stories he's picked up along the way, and plays beloved Blues Traveler hits as well as other original and traditional songs.
Buffalo's own Jamie Holka opens the show. Jamie is a solo finger-style guitarist from Niagara Falls NY. His style incorporates many layers to assimilate bass, drums, chords and melody. Switching between a Gibson L-5 and a Maton Michael Fix model, he's able to create quite a diverse sound.
Jamie studied at the Berklee College of Music in Boston, Massachusetts and continued the study of jazz guitar long after his Berklee days. However, jazz is only a foundation for his multi-layered arrangements.
Jamie took 3rd place in the North American Rock Guitar Competition in 2006 and has been a support act for many classic artists such as Allan Holdsworth, Todd Rundgren, Michael McDonald, Steve Morse, Steve Miller, Little Feat, Kansas, Steve Kimoch, Adam Rafferty, and CCR. His arrangements span the likes of Pink Floyd, Led Zeppelin, Steely Dan, Stevie Wonder, Super Tramp, Toto, the Beatles, the Cars, Bob Marley, Michael Jackson, the Bee Gee's, the Stones, Red Hot Chili Peppers, Boz Scaggs and many one hit wonders.
Date/Time
04/02/2019 / 8:00 pm
Address
341 Delaware Avenue
Buffalo
New York
14202
United States