Edinboro University Faculty, Staff, Students To Celebrate Women's History Month
Edinboro University will mark Women's History Month in March with a wide-ranging program based on the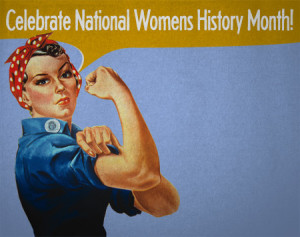 theme "Celebrating Women of Character, Courage and Commitment."
Celebrating Women's History Month with a variety of enlightening and at times provocative presentations has been an Edinboro tradition since 1996. This year's observance will include more than 20 presentations by faculty members, students and guests.
The offerings will open Monday, March 3, with a student panel discussion on the topic "Why I Am/Am Not a Feminist." The panel for this 7:30 to 9 p.m. event in R. Benjamin Wiley Arts and Science Center, Room 107, will include 10 undergraduate women and men of varying viewpoints and academic and personal backgrounds.
Additional highlights of the "Celebrating Women of Character, Courage and Commitment" schedule include:
"They Came In Like A Wrecking Ball:" The Public Transformation of Disney Girls, by Dr. Rhonda Matthews of the Department of Sociology, March 5, 12:15 to 1:30 p.m., Frank G. Pogue Student Center, Multipurpose Room B.
Women of Word: Poetry 2014, featuring a number of area poets, Thursday, March 6, 7-8 p.m., Dr. William P. Alexander Music Center Recital Hall.
"A Grand Convulsion in Society": Cameos of Civil War Women in Song & Story with music by Judith Avers & narration by John Burt, Thursday, March 13, 7:30 to 9:30 p.m.. Dr. William P. Alexander Music Center Recital Hall.
"Women in Business – A Night of Discussion," featuring a panel of women holding positions in business from around the region representing various industries and business structures, Thursday, March 13, 6 to 8 p.m., Frank G. Pogue Student Center, Room 303B.
Other programs in the observance will explore the status of women in the workplace; the portrayal of women in media, literature and film; and whether the U.S. has a rape culture, among other topics.
All Women's History Month events are free and open to the public. They are sponsored by Edinboro's Women's Studies Committee in collaboration with a variety of academic departments, organizations and offices on campus.
Members of the Women's History Month 2014 Committee are: Dr. Nina Thumser, chair; Vicky Wetsell, Dr. Jean Snyder, Dr. Martha Donkor, Thasia Lunger, Dr. Irene Fiala, Susan Woodland, Dr. Jerra Jenrette, and Dr. Rhonda Matthews.