Erie's Underground Evolution
By Jenna Croyle
There's one piece of reality that we all must face, everything changes, grows, and develops into something new, and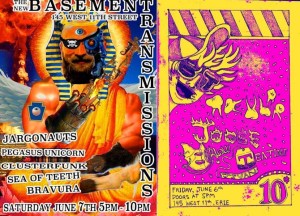 most times, different from what we might have expected, and greater than what we had hoped for. As no stranger to the many changes of the times, society, and our own individuality, music, along with those who make it, continues to redefine not only the sounds we hear, but our very culture as well.
As transitional as passages of a song that speak to us with the softness of an angel, and then bark with the fierce and thunderous lyrics of passion, our local underground music scene is constantly renewing itself with a renaissance of sounds, passions, and expressions.
The creative idiom and freedom that the underground gives to artists to evolve and grow helps develop ideas and shape the music of tomorrow. Erie's underground movement focuses on the importance of the sincerity and intimacy of music, along with the appreciation of artistic creativity.
For years now, no organization has contributed more to not only the evolution of our underground music scene, but to our personal individuality and originality than Basement Transmissions, offering an incubator for imagination and artistic uniqueness and unity for the scene.
This weekend marks yet another transition for not only our local music scene, but for Basement Transmissions as well, as the first of many events that will take place at their new home, kicks off both this Friday and Saturday.
With a never ending and untiring dedication to the scene, Erie's ambassador of the underground, and the leader of our all-ages arts scene, Bob Jensen will open the doors of the former Roadhouse Theatre building for a fundraiser to restore the historic, and once beautiful building that will serve as Jensen's beacon of expressionism, and a haven for creativity to our Community.
As a safe, drug and alcohol free venue, the new Basement Transmissions building fundraiser will move into high gear on Friday with four of the most power packed, and electrifying bands playing out in Erie today that will include Teatime For Three,  Barlow, Jivan, and Joose.
In addition, Kevlar will take the stage and rock the roof off with the CD Release of their new EP, "Into The Crossfire". With a hard driving and supercharged attitude to original Rock done right, Kevlar is Jacob Flaugh on Guitar and Vocals, Anthony Sanzo on Bass Guitar, Nick Sanzo on Drums and Vocals, with Brian Lowery on Guitar and Lead Vocals.
Saturday's show turns up the heat with an amazing lineup of insanely talented bands such as ClusterFunk, Sea of Teeth, Bravura, and the unbelievably massive music of the Jargonauts, along with a special appearance of the legendary musical artists, and pioneers of our underground music scene, Pegasus Unicorn.
Progressive, raw, and representing the true meaning of original music at its best, Pegasus Unicorn takes alternative to the extreme, and creative to the psychedelic max, with a high octane energy gone wild presentation.
Bringing the noise and the passion, and giving nothing less than their best, times ten at every show that they ever played, Pegasus Unicorn features Ben Romer and Jason Lavery on Bass Guitar, Matt Shimek on Rhythm Guitar, John Yochim on Lead Guitar, Josiah Haughwout on Lead Vocals and Guitar, along with Basement Transmissions own Bob Jensen on Beats and samples.
The entire weekend event at the new Basement Transmissions building is an opportunity for the Erie Community to give back and help an organization, and a man who has selflessly committed himself to our scene, and truly cares about the Community and the people whom he severs.
Please come out this weekend, support the scene, support our musicians and Artists, support Basement Transmissions, and please donate as much as you can. Remember, without our scene, we trade our individuality for conformity, and substitute freedom of expression, with compliance.
Both shows on Friday and Saturday run from 5pm until 10pm, and are located at 145 West 11th Street, Erie. Please keep in mind, 100% of the money collected from this weekend's events will be immediately put towards the Basement Transmissions' building fund, so please donate till it hurts, and help keep our scene alive for generations of Artists and Musicians yet to come.
For more information on upcoming event and shows at Basement Transmissions, please visit www.facebook.com/basement.transmissions. If you are unable to attend the fundraising events this weekend, but would still like to contribute to the Basement Transmissions' building fund, please click here.