Gannon University's Schuster Theater to Perform "The Good Doctor" for Clemente Fundraiser
Gannon University is hosting the annual Alex Clemente Fundraiser for Performing and Related Arts with a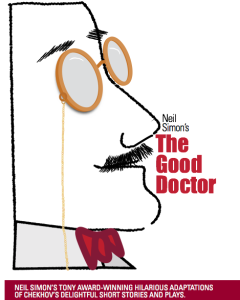 performance of Neil Simon's Tony Award-winning adaption of "The Good Doctor" on Thursday, March 13 at Schuster Theatre, 620 Sassafras Street.
Simon, an American playwright and screenwriter, who was widely regarded as one of the most successful playwrights in the world, molded seven of Anton Chekhov's short stories into one beautifully timed and comedy- filled performance, "The Good Doctor."
Directed by Paula Barrett and with an underscore by David Blaetz, both of whom are members of the theatre and communications arts faculty, the play will feature several Gannon faculty members and alumni, including The Rev. Shawn Clerkin, Jax Kubiak, and students Nick Emmanuele, Jared Lossie and Nicole Dohoda.
The pre-show reception begins at 7:30 p.m. with the show opening at 8 p.m. Tickets are $20 per person. Reservations are requested by Monday, March 10. To register go to: www.gannonalumni.org/clemente2014.
Proceeds for the event benefit the theatre department at Gannon and students who are participating in this summer's International Collegiate Theatre Festival in Edinburgh, Scotland, an event held in association with the Edinburgh Fringe Festival.
Clemente attended Gannon as a student in the 1960s and went on to become a director and writer for Gannon's theatre program. He also taught students in the technical aspects of theater, and was beloved for his commitment to Gannon and his students.
"Named for Gannon alumnus, former theatre technical director, and my father-in-law, the Clemente Fund helps the School of Communication and the Arts to bring professional performers and artists who work with and perform for our students and campus community," Clerkin, an associate professor, said.
For additional information, contact Britt Daehnke at 814-871-7261 or daehnke001@gannon.edu.