By Jenna Croyle
This Friday, May 24th, Scotty's Martini Lounge located at 301 German St., Erie will host what is sure to be not only the event of the weekend, but the first, best Pre-Summer kickoff party of the season.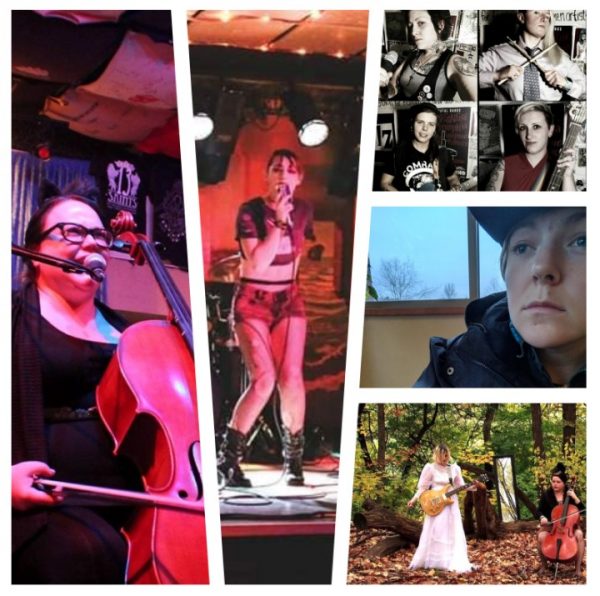 Produced by Gimp Guy Underground Promotions, along with The Radcastle Collective, and Rebel Girl Media, Scotty's Martini Lounge will host the CD Release Show for local Erie band Dysmorphia's latest release entitled "Lady Centric", the follow up to their 2015 release "Apathy is Dead".
Scotty's Martini Lounge is an intimate innovative local musical hot spot that features some of the best acts in Erie. Known for their great martinis, quality Cigars, hard-hitting and off-the-hook music, Scotty's is a great place to enjoy an evening with friends while puffing on your favorite cigar from Scotty's humidor, as you take in the amazing sounds coming off the stage.
The evening's event will kickoff at 9pm with Elizabeth Kawinski, an intense and incredible Acoustic performer from Meadville PA that offers her audiences original sounds with real emotion and powerful lyrics.
Additionally, on the evening's bill are 2 Pittsburgh based bands The Fuckies and Middle Children. The Fuckies are a supercharged band that is fused with creativity and style that features Midge Crickett on Cello and Vox, Zorahna Weslowski on the Vox, guitar and lead vocals, along with Vince Rizzo on Drums, Ian Semasko on Bass Guitar, and Racheal Green on keys and Guitar.
As a high energy 2-piece Electropop band also from Pittsburgh, made up of Jay Dowl and Midge Crickett, Middle Children is a small but powerful group with larger-than-life sounds that takes Electronica to new levels with rich melodies and wild energy.
Erie based band Aria and The Voiceless light up the night with passionate lyrics, phenomenal instrumentals, full-throttle energy, and captivating stage presence. Taking the styles and sounds of Punk, Rock and blues blended with today's edge all delivered with unbelievable lead vocals for a final product that is truly something to be reckoned with, Aria and The Voiceless are the best kept musical secret in town, and a guaranteed show stopper any night of the week.
Finally, Erie's own Dysmorphia unveils their long-awaited CD release of "Lady Centric", a production that is definite dynamite.  Formed in 2014 as an all-female band, Dysmorphia offers a very high energy and proficient blending of many styles of music that include Punk, Rock, Blues, and Hardcore influences that are all rolled up into one package that serves up a real down and dirty innovative Rock n' Roll sound delivered with top-shelf musicianship, devastating vocals, all augmented with astonishing energy and a groove that won't stop.
For the most talented group of musicians assembled anywhere this weekend, the most hard-hitting energy on overdrive performances, the most diverse collection of musical styles and sounds, and the most eclectic experience under one roof, make Scotty's Martini Lounge your Friday night destination for the Dysmorphia CD release of "Lady Centric".
Come for the epic party, stay for the mammoth musical madness!For more information on the Dysmorphia CD release show, please visit the Facebook event page.
For more information about Scotty's Martini Lounge, please visit their Facebook page.