Legend of Zelda and Radiohead to be Highlighted in Spring Behrend Band Concerts
Both the Concert Band and the Jazz Ensemble at Penn State Behrend will hold their annual spring concerts later this month at the college.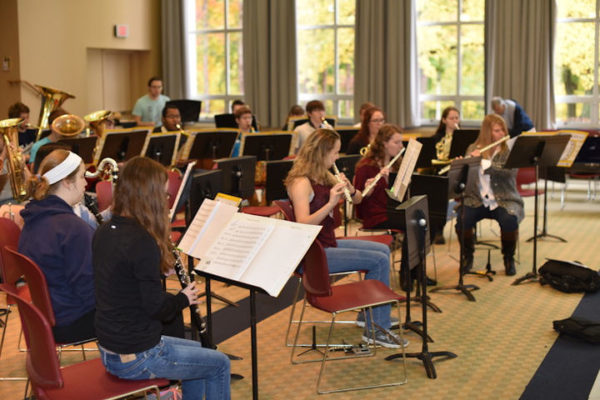 The Jazz Ensemble's spring concert will be held Tuesday, April 24, at 8 p.m. in the McGarvey Commons of the college's Reed Union Building. The concert will feature the music of Radiohead, Weather Report, Gordon Goodwin and more.
Then, on April 25 at 8 p.m., "GAME ON!", the spring concert from the college's Concert Band, will also be held in McGarvey Commons. The performance will feature music from the iconic Nintendo video game, The Legend of Zelda.
The Behrend Concert Band is conducted by Gary Viebranz, associate teaching professor of music and director of instrumental ensembles. Enrollment in the band is open to all Behrend students with previous instrumental experience.
Assistant teaching professor of digital music Joel Hunt conducts the Behrend Jazz Ensemble, which is comprised of saxophones, trumpets, trombones and a rhythm section consisting of piano, guitar, bass, drums and auxiliary percussion.
Admission to both performances is free and open to the public.
For additional information, contact Viebranz at gav3@psu.edu or Huntat jvh12@psu.edu.