"Love Academy Style" The Perfect Valentine Treat
Celebrate the Season of Love with Love Songs of the 1970s
The Academy Theatre presents the Love Academy Style February 14 and 15 at 7:30pm, and February 16 at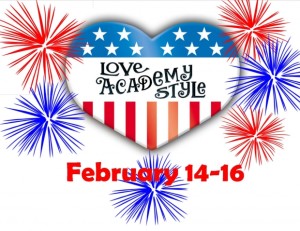 2:00pm at the Academy Theatre, 275 Chestnut Street in Meadville.
Tickets are $12.50 and $14.50 and can be purchased at www.theacademytheatre.org or by calling 814-337-8000.
Opening night, Friday February 14th, begins at 6:30pm with a reception sponsored by John Raucci of Edward Jones Investments featuring the cupcake art of Confections of a Cake Lover.  The reception will pamper your palate with an array of sweets – from cake pops to chocolate-covered strawberries – and champagne!
Don't miss the opportunity to dedicate a song to somebody special. Choose from our song list and surprise your special someone with the song they love performed just for them! Song dedications will be available in the lobby prior to the start of the show.
Directed by Joe Galbo, Love Academy Style seeks to bring back the nostalgia of the 1970s: "People like myself of a certain age look back fondly on the phenomenally produced love songs of the mid to late seventies. I believe this is the high baroque period of the analog recording process and songs like Elton John's 'Sorry is the Hardest Word' still wows audiences even today" explains Galbo. 
Love Academy Style is locally produced and features our talented local artists.  The singing and music are all live. The talented Susan Volna and Chris Seeley are handling the producing and music supervision  duties respectively, as well as performing. We also have other phenomenal performers from across the area who will be lending their magic pipes to these wonderful songs. 
What songs can you expect? Galbo is willing to share a few: "The aforementioned 'Sorry is the Hardest Word,' 'Blue Bayou,' 'Trying to get that Feeling again,' 'Babe,' 'It's a Heartache' and 'You Don't send me Flowers Anymore' are among some of them."
The directors and cast of Love Academy Style encourage you to come see your friends and favorite local talent this weekend. "If a smile came to your face when you saw the titles and you rushed to add them to your mp3 player if they weren't there already, have we got a show for you!"
For more information about Love Academy Style, please call 814-337-8000 or visit www.theacademytheatre.org.
Your seat is waiting!