Miss Marple Solves Another One
By Alison Tingley
All An Act Theatre Productions is currently presenting Agatha Christie's 1950 A Murder Is Announced. David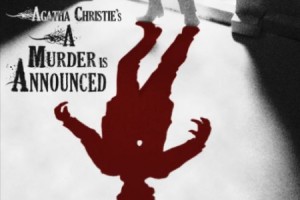 W. Mitchell directs this Miss Marple murder mystery (say that three times fast). It was made into a movie in 1985. It was also made into an episode of the Miss Marple series on television in 2005, which I unfortunately watched recently. I say unfortunately because I went to the play with much of the mystery already unraveled. It's still fun to see it live, though. And the play is a bit different than the television episode.
The plot is as follows. On the morning of Friday October 13 in the English village of Chipping-Cleghorn in the home of Letitia Blacklock, Letitia's oldest and dearest friend Bunny discovers an ad in the paper announcing that a murder will take place in that very house at 6:30 that very evening. Letitia and her distant relatives, Julia and Patrick, scoff at the announcement. However, Bunny and Mitzie, Letitia's Russian maid, take it seriously and are frightened. Curious friends and neighbors stop by, including Miss Marple who warns that they should be concerned. Letitia, still believing the announcement to be a hoax, invites everyone to the house at 6:30 to see what happens. They come back with the exception of Miss Marple, and when the clock strikes 6:30 the lights go out and shots are fired. When the lights come back on, someone is dead. (I'll give you a hint:  it's not Miss Marple). The police are called in and interesting pieces of the puzzle are brought to light by Inspector Craddock (also not dead) and Miss Marple.
The show stars Betsy Butoryak as Letitia Blacklock and Ruth Scandale as Miss Marple. Additional cast members include Ray Steinbacher (Inspector Craddock), Allison Mitchell (Julia Simmons), Stephen Salchli (Patrick Simmons), Peggy Brace (Dora "Bunny" Bunner), Teni Siano (Mitzie), Christine Pawlowski (Mrs. Swettenham), Nick Kikola (Edmund Swettenham), Kat Lawson (Phillipa Haymes). Rounding out the cast are Jerry Brace (Sergeant Mellors) and Wayne Gardner (Rudi Scherz).
Scandale plays the role of Miss Marple differently than what I am used to. I expected an amiable, inquisitive, clever old lady. Scandale's Miss Marple is more of astern crime-fighter. She was effective in the role, just not as endearing as I would have liked. Butoryak is also effective as the hostess of the "party," though I would have liked her a little bigger toward the end of the play. (Yes, I realize that I just informed you that she isn't murdered either. But if you really think about it, she's one of the main characters, so if you hadn't already assumed her survival then shame on you.)
Steinbacher is authoritative. Siano is funny. Peggy Brace plays confused quite well. Pawlowski is charming. Kikola, as always, is spot on. Lawson is reserved and flawless. Mitchell is a bit stiff on stage. Salchli is very difficult to hear. Finally, Jerry Brace and Gardner do a fine job with small roles.
The costumes and set are perfect. I've actually gotten to the point that I am just a little bit excited about seeing the sets at All An Act, since they are always so painstakingly detailed.
A Murder Is Announced runs on weekends through March 2. This whodunit is well-directed. The play does a nice job of condensing Agatha Christie's story and still leaving enough clues. It's always fun to solve crimes along with Miss Marple. Visit the website at www.allanact.net or email director@allanact.net for more information.