New Children's Book Weaves Adventure And Magic With Social Issues
It was announced today that Audrey Kane released her debut book for young readers, The Purple Girl on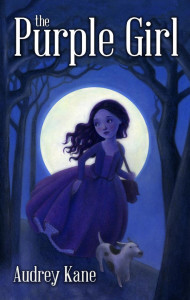 January 8th 2014.
The middle grade book highlights the life of Violet, a purple-skinned girl whose color spreads to everything she touches. Although The Purple Girl was written as a fun read to capture the imagination of readers, discrimination is at the core of the story…but so are possibilities, which appear everywhere.
In this coming-of-age tale, self-discovery, discrimination, and self-acceptance are interwoven with adventure and suspense. While written for children, The Purple Girl provides young at heart parents an entertaining read and a chance to discuss discrimination in a relatable, interesting way.
"Like so many middle graders, Violet struggles to fit into the world as she begins to learn who she is," Kane explained. "She wants to belong. And at the core of every story, the need to belong is often a theme that resonates with readers."
The book follows Violet, a lonely thirteen-year-old. She embarks on a dangerous journey to find the one boy that dared to befriend her, travelling at night…in the dark…to keep people from seeing her purple skin. But no one is more surprised than Violet when she unlocks her mysterious gift. Is she magical? Is she the devil's child—or simply cursed? This book explores Violet's story and is designed to support children in discovering acceptance and individuality, and gives adults discussion points to share.
Children with color eBook readers and devices will get an extra surprise; two interior illustrations (by Tory & Norman Taber) are in color.
The Purple Girl is now available in paperback http://www.amazon.com/The-Purple-Girl-Audrey-Kane/dp/0991028317/ and eBook at http://amzn.com/0991028317.
ISBN #978-0-9910283-1-3 (paperback)
ISBN #978-0-9910283-2-0 (eBook)
About Audrey Kane
Having attained a Bachelor of Fine Arts degree from the University of Georgia in 1987, it was only natural for Kane to weave a visual story. As a writer, and also a designer of tapestries with a Bachelor of Fine Arts degree from the University of Georgia, it is only natural for Audrey to weave visual stories. Between carpools and design work, she is plotting, scheming, writing, and revising. She lives in North Carolina with her husband, their three children, and her unruly dog, Rascals