New Transmissions From An Old Beacon
By Cindy Hemper
Since 1995, 145 West 11th Street played home to not only the Roadhouse Theatre For Contemporary Art, but more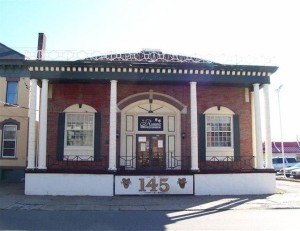 importantly it was an inspiration to artists and musicians of all diversities, and insights.
Now abandoned and ravaged by economic downturns and structural decay, this once thriving symbol of artistic expression and creative embodiment of our community's collective talents will once again take its rightful place as the nexus for progressive art and alternative independent music.
Just announced yesterday, and after more than a year of consideration, Bob Jensen of Basement Transmissions has purchased the former Roadhouse Theatre building, and has committed not only his dreams of what our local music scene should and could be to this historic building, but his talent and tenacity as well.
Since founding the new generation of Basement Transmissions in 2011, Jensen established Basement Transmissions as an all-ages venue on State Street, that has been home to hundreds of shows and countless artists, covering all genres of music.
In addition to creating Basement Transmissions, Jensen has crafted an independent music awards event that not only supports our Indie artists, but recognizes their great talent and invaluable contributions to our community. The Blue Pike Music awards shines a bright light on the incredibly gifted musicians of all genres including Metal, Jam, Alternative, Urban, Electronic, Rock, Punk, Acoustic/Solo, and Hardcore.
Bob Jensen of the incredibly gifted musical group "Pegasus Unicorn", has been a musician, promoter, and advocate of our scene for decades, and what should be described as a charter member of Basement Transmissions Records since the early years.
Now, with strong conviction, artistic passion, and a forward thinking approach, Jensen is set to embark on the next chapter in the Basement Transmissions saga. With nothing less than a dedicated and valiant attitude, along with a bold and sincere love for music and our scene, and those who make it real, Jensen will boldly take 145 West 11th and Basement Transmissions where no local man has gone before.
Set to open in June, the new location will continue to offer the youth of our City a place to express their artistic abilities, and passions, but a home away from home that is a drug and alcohol free environment.
Jensen and the Basement Transmission group will be holding a fundraiser concert on June 6th and 7th to help raise money to cover some of what will surely be exorbitant renovation costs.
As Basement Transmissions turns the page and ushers in the new generation of tomorrow's musical legends in the making, please support Basement Transmissions, the art, the music,  our children, and the future of our scene, and visit the new venue as often as possible as Basement Transmissions sends new and creative signals from an old but soon to be thriving beacon of original music.
For more information on Basement Transmissions, the renovations of their new home, or upcoming shows and events, please visit www.basementtransmissions.com, or their Facebook page.