No Budget Filmmaking Book Event at Sundance 2014
Award-Winning Filmmaker to Have Book Signing at Dolly's Bookstore
Anyone can make a movie. With no money. And be a well known filmmaker.
That's the premise of the new filmmaking book NO BUDGET FILMMAKING: Or How to be a Well Known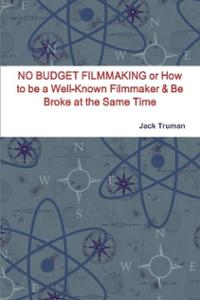 Filmmaker and Be Broke at the Same Time, written by Jack Truman. Truman, an award-winning independent filmmaker, shares valuable tools, tips, and secrets of the industry trade in a book designed to help any aspiring moviemaker make their movie.
Dolly's Bookstore in Park City will be hosting a special book signing event of Truman's new book on January 19th, 2014. The event will be on Main Street in conjunction with the 2014 Sundance Film Festival.
"It's not hard to make a movie. You just have to make your movie", Truman stated in press materials. "Everyone has a story to tell. And there is an audience out there for your film. You just have to make it and get it out there. I wrote this book with the objective to help anyone make a movie with no money and become successful in the independent film world. I'm living proof it can be done. If I can do it, anyone can".
An informative, alternative, out-of-the-box reference book for the film industry, NO BUDGET FILMMAKING covers a wide range of tips and tools: from proven filmmaking techniques, valuable industry resources, and more, this book guides the aspiring filmmaker from concept to distribution on the film festival circuit, and beyond. A must-have resource for anyone who needs help with making a low budget film on their own, NO BUDGET FILMMAKING is a breakthrough book for the next generation of filmmakers.
Author Jack Truman is an award-winning filmmaker and 25 year veteran of stage and film. A former professor at Texas A&M University, Truman has also appeared in several television series and major motion pictures. His film directorial debut, the award-winning hit cult short film PHONE SEX GRANDMA premiered at the 2006 Slamdance Film Festival. Combined, Truman's films have screened at over 300 film festivals worldwide to date. Jack was recently on the Short Film Jury at the Slamdance Film Festival in Park City, Utah.
Dixie Films is an independent film company that specializes in alternative, underground entertainment.