Powerful Grooves and Restless Riffs
By Jenna Croyle
When one first hears the word "Metalcore", words such as "heavy" and "thrashing" come to mind. With the birth of such bands as Earth Crisis, Deadguy and Integrity in the early 1990's, a new breed of music,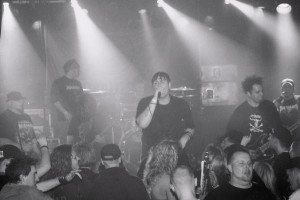 Metalcore took form that combined extreme metal and hardcore punk. Metalcore places a significantly greater emphasis on melody rather than the sounds of the usually Death and Hardcore music with modern elements of punk and metal which tend to fuse melodic death metal and post-hardcore.
This week's featured band, Waiting For Never is an in your face, raw and powerful Metalcore band that is a perfect example of what the Metalcore music genre should represent.
Taking much of their influences from Chimaira, Killswitch Engage, Demon Hunter and the Deftones, Waiting For Never features Eric Smith on Vocals, Justin Dombrowski on Guitar, Nick Menist on Bass, Dale Davidson on Guitar/Vocals and Tory Shatto on Drums.
Formed in 2003, this intense yet engaging band produces music that not only entertains, but also is innovative and
uplifting to anyone who hears it. Among the band's many credits, Waiting For Never was the 2009 winners of the Rolling Rock Battle of the Bands and winners of the "Favorite Hardcore/Metal Band" category at the 2009 RockErie Music Awards.
Waiting For Never's lead singer Eric Smith pumps out raw and commanding vocals that are amazingly inspiring as his voice echoes true emotion from the lyrics of every song, while still keeping the metal sound flowing.
The tremolo picking of Justin Dombrowski adds a bit of an exotic feel to the band's music while it is always powerful and keeping the melody at the heart of each song though still maintaining speed and precession throughout all of the changing to different notes and strings. Dombrowski is without a doubt one of the most talented Guitarists in the scene today.
The band's bassist, Nick Menist is truly fantastic, his bass lines are never overpowering while constantly pulse pounding and passionate. The low end on bass of Menist offers a crushing sound that seems to reverberate to your very soul.
Dale Davidson offers the perfect complement to this fearsome five-piece frenzy of Metalcore masterpieces. Davidson's maintains perfect rhythm and harmony right through every song, never missing a beat, riff or note. The energy and excitement that Davidson adds to the overall package of Waiting For Never is astounding and indispensable.
Finally, the chops of drummer Tory Shatto are unmatched, supplying a fist-pumping backbone of the band and the show stopping force that Waiting For Never undeniably is.
Waiting For Never's brilliant mixtures of sounds, vocals and instrumental proficiencies that range from heavy breakdowns to extreme harmonized guitar solos creates a unique sound, and intensifies not only the music, but the entire experience of the show itself.
Waiting For Never is a band that has certainly earned their place as an Erie musical legend through their Powerful Grooves and Restless Riffs and extraordinary combined talents of each member of the band.
For more information on Waiting For Never, show dates and latest news, please visit their Facebook Page.