By Jenna Croyle
Regardless of what you play, the biggest thing is keeping the feel going, our featured band this week certainly does wile taking Rock'n Roll covers to new levels as a five-piece band made up of some of Erie's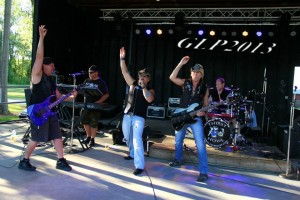 most talented musicians.
Thirst N Howl was nominated for five RockErie Music Awards in 2010 and was honored as the recipient of the Favorite Keyboardist Award.
Thirst N' Howl is a good time, party band with excellent harmonies featuring great music that is a mixture of several styles of Rock'n Roll and even some country thrown in, performed with their own unique sound.
This aggressively energized band has something for everyone, covering tunes of a wide variety from Stevie Ray Vaughn to Stone Temple Pilots and from Motley Crue, Poison and Bret Michaels to Chuck Berry, Kid Rock, and Alice in Chains.
Thirst N' Howl is more innovative than derivative, featuring a blazing, brilliant guitar, which is sometimes frightening in its intensity while the vocals are belted out with all the power and vigor that one could expect from the actual original bands that they cover.
Thirst N' Howl has performed in almost every Erie hot spot and some of our local major events such as Discover Presque Isle, Erie Otters Home Openers, Linked By Pink's BreastFest, the North East Wine Fest and the North East Rib Fest.
Arguably one of Erie's greatest Rock 'n Roll cover bands for twelve years now, Thirst N' Howl is comprised of Mike Dvorak on lead vocals, Glenn Sprague on bass and vocals, Fred Glatz on Lead Guitar and Vocals, Bob Armour on keyboards and Charlie Devine on drums.
Thirst N' Howl brings a lot of talent as well as experience to every show they play and the high energy sound that comes from each bar of music keeps their wall to wall fans of many ages always entertained and never bored as they deliver the heart pumping sounds of Rock 'n Roll as only they can.
As a band that is talent personified, Thirst N' Howl offers some blues, rock 'n' roll and country that is just a beat apart in a style that comes from their own experience, thoughts, wisdom and most importantly the band's cumulative love of music which has made them not only one of Erie's Favorite Cover Bands, but has certainly earned them a spot in our local music hall of fame, if it existed.
For more information on Thirst N' Howl and show dates please visit their website or their Facebook page.