South Florida Resident Max Holm Chosen for Jazz Band of America
17 year old will be showcased at the Yamaha Music for All Festival in Indianapolis on March 8
Fort Lauderdale resident and Dillard Center for the Arts jazz pianist, Max Holm, was one of thousands of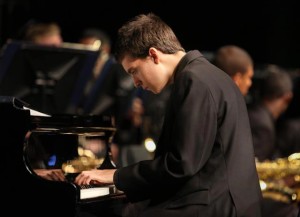 American high school students who auditioned for the prestigious honors band, Jazz Band of America. The jazz band is comprised of several musicians who play the same instrument, but only one pianist, Max Holm, was selected from all candidates in the entire US. Max's improvisational skills will be featured on ten songs, during the performance.
"This is a great opportunity for me to play with other talented musicians from around the country," said Max, who is a high school junior. "One of my favorite things is to travel and meet other people who have the same interest in music. I've made many good friends that way."
The Jazz Band of America will be headlining the Music for All National Festival in Indianapolis on March 8, where dozens of high school concert bands and orchestras will also perform. The top high school jazz musicians are provided a national stage to perform, as well as a world-class learning experience with master teachers, artists and conductors over the five day annual event.
Max, who grew up in Stockholm, Sweden, has been living in South Florida for seven years. His Max Holm Quartet was chosen to play at the 1st Annual Miami Beach Jazz Festival at the legendary Fillmore, opening for Michelle Coltrane. He recently performed at the Tampa Convention Center as part of the Florida All-State Jazz Ensemble, again the only pianist chosen from the entire state of Florida. More information at MaxHolm.com
Max plans to attend a top music school where he can attain a well-rounded education after he graduates from high school. For more information visit Max Holm's Facebook page, http://www.facebook.com/maxholmmusician