By Carrie Canfield
Have you ever examined your life and wondered how the hell did I get to this point? How could I be the person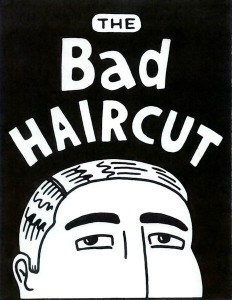 staring back at me in the mirror? How did things go so wrong? Was it something that I did, or is it the universe that is wrong? Is someone playing a trick on me, or is he or she trying to teach me a lesson? Maybe I am being dared to explore my role in the outcome.
He should have kept going, he should have found another place to get a haircut, but sometimes you just do things that don't make sense. Sometimes you are just so overcome with fear that you are frozen in place. Sometimes you meet an Eastern European hair stylist and he has you believing that your life is too mundane, too middle of the road. Sometimes they tell you that they are just going to give you a trim, and you wind up questioning your whole existence.
Written and directed by Richard Boler, "The Bad Hair Cut … A Disconnected Comedy" is seen through the eyes of the lead character, whose one wrong decision, one bad hair cut, thrusts him down the rabbit hole and onto a path of self discovery. Leading the audience on the ride of their lives is veteran actor Mark Tanenbaum. Our Gulliver in his travels, he has the audience empathizing with his plight.
With effortless accuracy, perfect timing, and the ability to cry on cue, along with a stage presence that would make Pavlov drool, Tanenbaum is the consummate actor. And his performance will leave audiences wondering how they can sign up for Tanenbaum Acting 101.
Our protagonist, Leslie Ford plays the Eastern European, and self-proclaimed famous male hair stylist, who plants little seeds of doubt in the mind of our conductor. If he had just stuck to the request, if he had just given the trim without question, things would have turned out differently. But sometimes, you can't give the guy in the chair what he wants without telling him exactly what you think of him. Sometimes you have to tell him what you think of him and every other American out there.
Audiences will have no doubt in this girl's stellar acting ability, as Leslie's over the top accent is hilarious to an extreme. Her performance will have audiences understanding, not only why our leading man stayed in the chair, but hating her for every bad haircut they've ever had.
Karen Schelinski's performance in multiple roles was simply outstanding, and shows this woman's staying power and great versatility as an actress. Whether as the blind, greeter at "YMart" or the voice at the end of what is thought to be an automated menu, this girl is surely a force to be reckoned with, and a true shining star of our local theatrical stage.
Camille Jones takes her multiple roles as the guru or the Wal-Mart protestor to new heights, and is a breath of fresh air. Believing that Wal-Mart is an evil that must be destroyed, she will have audiences questioning their buying habits.
Scott Frisina in his roles as the fed up worker, and the burn out friend of our leading man shows us what acting is all about! His perfect timing, delivery of lines, and comedic anchoring shows us why this man is a true gem and such a stunning performer.
In dual roles, "Digg It" Dave Schroeder is a great comedic addition to this richly packed cast of acting wonders. Whether as a musical accompaniment or stepping out of his comfort zone and into the role of acting, he shows us why he is a true artist.
John Stockhausen showcases his comedic genius, tenacity, and demonstrates himself as a true credit to his craft with his gleaming performances in multiple roles. First as the quirky doctor who overreacts to the haircut, he sets the stage for the tone of the play. As the unsympathetic, and opinionated radio show host, he will have audiences pissing themselves in laughter and begging for more with his assessment of Eleanor Roosevelt.
As the senile and feeble old man, or the boss attempting to make a reservation for himself and his wife, Stockhausen's disconnection from the world around him shows us something that the lead character is unable to see.  Maybe we're not alone in our feeling of being detached from life, maybe we're just too caught up in our own problems to realize that others are not just spokes in the wheel, but are actually active participants in one another's existence.
Packed with hilarious dialogue, thought provoking issues, and an incredibly talented ensemble of thespians that will have your eyes tearing up, gut aching, and your sides splitting with laughter, "The Bad Haircut…A Disconnected Comedy" connects masters of the stage and delivers both brilliant performances, and comedy at its very best.
Continuing Fridays and Saturdays March 14th, 15th, 21st, and 22nd at PACA located at 1505 State Street, Doors will open each night at 7:00 pm, with the shows starting at 7:30 pm.
For more information on this show, ticket information or reservations, please visit www.paca1505.com.