The Jazz Age – Dazzling and Dangerous Comes Alive Onstage at the Erie Playhouse in The Great Gatsby
The powerful adaptation of F. Scott Fitzgerald's novel – The Great Gatsby – premieres at the Erie Playhouse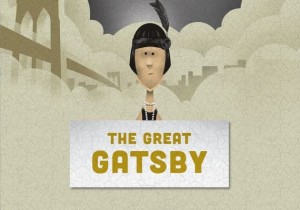 March 7-23.
Bold and enticing, Fitzgerald's novel of obsession, love and the American dream takes center stage at the Erie Playhouse in a stunning adaptation by Simon Levy. While the novel has been adapted for the screen – 1974 with Robert Redford and Mia Farrow and most recently with Leonardo DiCaprio and Carey Mulligan – until now, there has been no major adaptation for the stage and this adaptation has received glowing reviews wherever it has been produced.
"By the end of the evening, there was a longing to see it again. And then again…This adaptation by Simon Levy clearly understood that Fitzgerald's words are sacred and can't be improved upon. What was added, deleted or changed to adapt the story to the stage was so faithful to Fitzgerald that it became seamless…Expectations were far exceeded." —Arizona Daily Star.
"Sweeping…excellent…Levy's adaptation wisely anchors itself around the first-person account of narrator Nick Carraway…a satisfying conclusion…affecting." —Variety.
The Erie Playhouse has assembled an impressive line-up of talent to bring the play to life.  Brendan Daugherty, who made his EP debut in Les Misérables as Enjolras, will tackle the role of Jay Gatsby, with Louise Weist making her EP debut as Daisy Buchanan. The narrator of the story – Nick Carraway – is portrayed by Domenic Del Greco. Other major characters include Nick Kikola (Tom Buchanan), Jessie Montanye (Jordan Baker), Krista Lamb (Myrtle Wilson), Casey Conrad-Medvis (George Wilson) and Michael Weiss as Meyer Wolfshiem. A strong ensemble completes the cast.
The Great Gatsby is being co-directed by Kate Neubert-Lechner and Susan Lechner. Joe Hassler creates the setting with Christine Carmichael designing the lights. Angela Howell completes the production team with costume design.
The Great Gatsby – a story tangled with romance and betrayal. Audiences will be moved by the colorful and profound characters. 
SHOW DATES & TIMES
March 7 & 8 (Premiere Weekend performances – all seats $15.00)
March 13-16, 19-23
Wednesday – Saturday 7:30 p.m.; Sunday 2 p.m.
All Adults $15.00 & $22.00, Students $13.50 (includes tax and facility fee)
The Erie Playhouse, 13 W. 10th St. Erie, Pa.
Box Office: 814-454-2852 ext 0
Website: http://www.erieplayhouse.org