French Kiss At Docksider
By Terry Pentelli
This Friday, October 25th from 7 till 10pm, Docksider Tavern's stage explodes with the Glam Metal maniacs that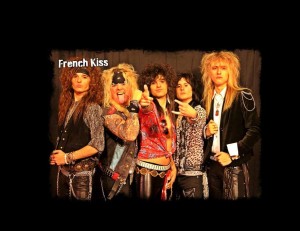 bring their raging rock to every show they play.
With an outstanding choice of twenty beers on tap, three full service bars, and a pounding sound system to rival any in town, and the smoothest bartenders around, with a fresh and high throttle energy feel, Docksider is State Street's leader of the good times Congo line.
Every weekend starting at 10pm, Docksider has the hottest DJ's in town bringing the noise and kick'n it correctly, with the most slamm'n parties in town.
This Friday's blowout show jumps starts your happy hour with the hardest hitting 80's Glam Metal band in town, French Kiss taking the stage at 7pm.
As powerhouse, mega monsters of Metal, French Kiss is an in your face band that performs every show with that classic rock till you drop, party all night long attitude and the best kick ass covers of the hottest supercharged hits of the 80's.
French Kiss is made up of members David "Holly Wood" Dunn on Lead Guitar, Trevor "T-Rev" Vogt on Bass Guitar and Vocals, Josh "Roxxxie Love" Snider on Lead Guitar and Backup Vocals, Jeffrey "Pixie Styxxx" Snider on Drums, and the wild and vicious Jim "Jimmy Zigzag" Sorrell on Lead Vocals.
Giving killer shows every time, French Kiss pounds out the hardest hitting rock songs from the 80's with a high-energy Glam Metal sound, and an authentic look, and the style to match.
French Kiss blows the roof off every show they play from the first song with supercharged covers of wicked hits like "18 and Life" by Skid Row, "Pour Some Sugar On Me" by Def Leppard, "Vacation" by The Go-Go's, "Love Is What I Got" by Sublime, "Sweet Child O' Mine" by Guns 'N Roses along with "Every Rose Has Its Thorn" and "Look What the Cat Dragged In", both by Poison and many more hit tunes of the time.
French Kiss always gives that true classic Glam Metal madness along with the best balls to the walls party in town everywhere they play. With powerful vocals, killer talent, raging rhythms and riffs, and a rock your world stage show, French Kiss is Erie's original hard rocking party band.
Go a little crazy at Docksider and party right this Friday night with the most sickest party band in town and a totally bitchin' night of Glam Metal madness and wild party power from start to finish at the monster blowout bash of the weekend.
For more information on French Kiss and their show dates, please visit their Facebook Page. For more information about Docksider Tavern, their calendar of events and other information, please visit their Facebook Page.