Leader of Men and Kevlar at Sherlock's
By Terry Pentelli
This Saturday December 14th Leader of Men and Kevlar invade Sherlock's and will heat up the frigid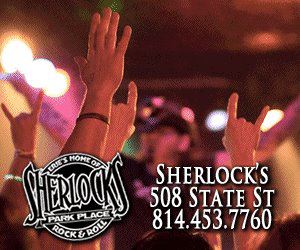 December night with the hot and heavy sounds of Rock the way you want it.
Located at 508 State Street, Sherlock's is State Street's Rock N' Roll heart beat and for more than twenty years has been Erie's one stop shop for the best music, the biggest bashes, and the hardest rockin' good times in the City.
With a reputation for being the place to play and for out-and-out madness on and off the stage, Sherlock's brings the noise with popping fresh bands from all over Erie and the region, always ahead of the game and a beat apart from the other bars in town.
With a furious frenzy of power and energy, Kevlar opens the night with the hard-hitting, over the top Metal madness pounded out with down and dirty, in-your-face style that will make you break down and beg for more.
Kevlar is made up of Anthony Sanzo on Bass Guitar, Nick Sanzo on Drums and Vocals, Jacob Flaugh on Guitars and Vocals, along with Brian Lowery on Guitars and Lead Vocals.
With a party in a box style and rhythmic based originals like "I Don't Mind", "Strength", "Vicious Cycle", "Better Than Me", "Bad Day", "Over The Edge," and "Staring Back At Me", along with killer covers like "Paranoid" by Black Sabbath, Kevlar cranks out today's Metal with yesterday's edge.
Revving up the party and blowing out the crazy, Leader of Men set the stage on fire next,  with scorching hot hits, mad energy, and a pure Rock N' Roll show that is wicked hot.
Made up of Blaise Brutto on Lead Vocals, John Brutto on backing vocals and all guitars, Jimmie Gillespie on Bass and Jim Horne on Drums, Leader of Men always gives 110% with a  party hard all night long attitude that never stops.
With a high-throttle stage show, Leader of Men pounds out raging covers of songs like "Highway To Hell" by AC/DC, "Save A Horse, Ride A Cowboy" by Big & Rich, and even some Bon Jovi with "Wanted Dead Or Alive" along with so many other devastating covers of groups like Nickelback, Godsmack, Seether and Disturbed.
Bringing the power and the party, Leader of Men is Erie's supercharged Rock N' Roll monsters of madness, that rocks your world with sick sounds and hard driving power, and the most intense, bitch'n, rock till you drop vibe.
This Saturday night, pour into Sherlock's, get wild, go crazy, and party all night long with two of the best, balls to the walls bands in town, at the biggest, best bash around.
The entire night of brutal good times kicks off at 10pm and won't stop till you drop. For more information on Sherlock's, their other events and shows, please visit their Facebook page.
For more information, booking and other scheduled shows for Kevlar, please visit their Facebook page. For booking, shows and other information on Leader of Men, please visit their Facebook page.