Icarus Witch At Sherlock's
By Terry Pentelli
This Friday, March, 14th  Icarus Witch returns to Erie for a wild, and insane night of melodic Metal mayhem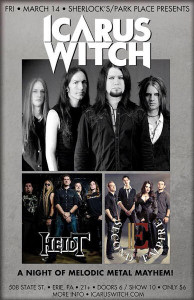 and high throttle party power at its best.
Located at 508 State Street, Sherlock's has spent more than twenty years making their bones on grand shows like the ones this Friday.
With a reputation for being the place to play and for hellacious madness on and off the stage, Sherlock's brings the noise with popping fresh bands from all over Erie and the region, always ahead of the game and a beat apart from the other bars in town.
If you need a little break from the crowd, check out the pool tables, beer-pong table, dartboards, and pinball machines, but don't worry when you're ready to shake, rattle and roll again, Sherlock's will make sure the house is still rockin'.
With fantastic bartenders, great servers, and killer drink specials, along with a top of the line sound and light show that when combined with the most electrifying music pouring off the stage of all genres, styles and sounds, Sherlock's gets its crazy bash on, every weekend.
As a powerhouse Metal band, Icarus Witch is a group of mega talented Metal maniacs that break the boundaries and blur the genres, firing-up every crowd they perform for with massive guitars, whaling vocals, and mad drumming.
Icarus Witch is a superstar collection of the most intense musicians that include Dave Watson and Quinn Lukas on Guitars, Jason Myers on Bass Guitar, and Erie's own legendary performer, Christopher Shaner on lead Vocals.
Playing shows from Canada, Europe and Puerto Rico, to New York, Los Angles, Hollywood, Pittsburgh, and of course Erie, Icarus Witch brings their international caliber musicianship and the hard pounding sounds to the Sherlock's stage this Friday night.
With wicked songs like Last Call For Living, Coming Of The Storm, Asylum Harbour, (We Are) The New Revolution, Nothing Is Forever, and The End, Icarus Witch is one of the most popular, hard rocking, and hard partying original Metal bands playing out today.
Also sharing the stage and opening the show are two freaking awesome bands that are guaranteed to blow your mind, and are called "Heidt" from Buffalo New York, and "Second Empire" from Pittsburgh PA.
Heidt is a supercharged Metal band that brings the noise and devastates their audiences with the most in your face attitude and talent on overdrive musicianship. Heidt blows you away with hit quality originals and a party all night vibe.
Raw and real, passionate and powerful, and playing the most unique brand of original Symphonic Metal, Second Empire is one of the most creative and bitchin' bands that you have ever heard, and alone, are well worth coming to the show for.
Go a little crazy at Sherlock's, and party right this Friday night with the most slammin' balls-to-the-walls bands on one stage, in one night, at the most sizzling hot show and the monster blowout of the weekend.
The entire night of Metal music madness kicks off at 10pm and rocks all night long.  For more information on Icarus Witch, their other tour dates and other information, please visit www.icaruswitch.com. For show dates, booking and other information on Heidt, please visit their Facebook page. To get more information about Second Empire, their booking and other information, please visit their Facebook page.