Double Shot Of Sherlock's
By Terry Pentelli
Both Friday and Saturday this weekend Sherlock's blows the roof off with two of the most amazing bands in town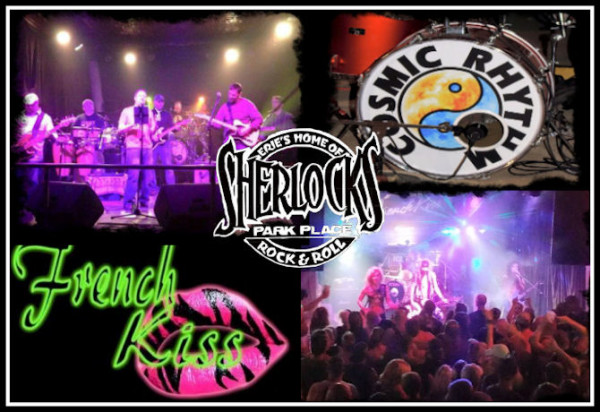 back to back.  With crushing set lists, bad-ass musicianship, and talent on overdrive, two of the most intense and hard-driving party bands rattle the walls and rock the block, capping the biggest nights of this year's CelebrateErie at State Streets hottest spot.
Located at 508 State Street, Sherlock's always features fantastic bartenders, great servers, and killer drink specials, along with a top of the line sound and light show that when combined with the most electrifying music pouring off the stage of all genres, styles and sounds, Sherlock's gets its crazy bash on, every weekend.
First up on the bill Friday is a powerhouse band that breaks the boundaries and blurs the genres, firing-up every crowd they perform for with massive guitars, whaling vocals, and mad drumming, Cosmic Rhythm.
Featuring a cavalcade of musicians that are guaranteed to blow your mind with wicked talent, and crazy energy, Cosmic Rhythm is Terry Hokaj on Bass Guitar, Stan Zlotkowski on Drums, Nick Vigs on Percussion, Christopher DeDionisio on Keyboard, Eric William Louis on Guitar, Josh Maloney on Rhythm Guitar, and Michael Agostini on Lead Vocals.
Pounding out a solid gold set list of monster hits and devastating, fist pumping originals that includes,  Light Up Or Leave Me Alone, Jane Says, Sample in a Jar, Hey, Hey What Can I do?, Echoes, Mr Charlie, Shakedown Street, and Handshake Drugs among many others, Cosmic Rhythm always hits you hard and leaves you wet.
Saturday's  show will rock your world with the super hot, super sizzling French Kiss, revving up the party and blowing out the crazy, setting the Sherlock's stage on fire once again with scorching hot hits, high-throttle energy, and a pure 80's Metal madness.
With epic talent and down and dirty, kick-ass, killer style, French Kiss is David "Hollywood" Dunn on Lead Guitar, Trevor "T-Rev" Vogt on Bass Guitar and Lead Vocals, Josh " Roxie Love" Snider on Lead Guitar and Backup Vocals, and Jeffrey Pixie "Styxs" Snider on Drums.
With a set list that roars and rocks with the hard pounding sounds of the most incredible hits of 80's Metal, French Kiss delivers bitch'n covers that include Gypsy Road, Hysteria, Nothing but a Good Time, Teach Ya How'ta Rock, I Want Action, Sweet Child O' Mine, Enter Sandman, Locked Out of Heaven, Cold Blood, along with too many more to count.
Both Friday and Saturday nights this weekend party like mad, take a rollercoaster ride to the wild side, and jam with the two best damn bands in Erie at a full-blown, larger-than-life CelebrateErie weekend after party, and the biggest, and maddest, balls-to-the-walls bash of the weekend.
Each night of musical madness kicks off at 10pm and rocks all night long. For other upcoming show dates and events at Sherlock's, please visit their Facebook page. For more information on Cosmic Rhythm and their booking and other show dates, please visit their Facebook page. For show dates, booking contacts, and other information on French Kiss, please visits their Facebook page.