Redneck Block Party at Gravel Pit Park
By Terry Pentelli
This Saturday August 2nd, Gravel Pit Park lights up the night with the hardest hitting bands this side of the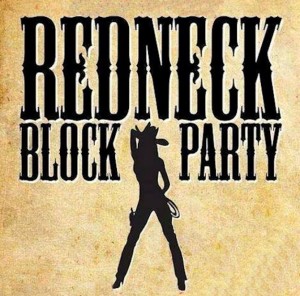 Mississippi, for the biggest bash, the larger than life extravaganza of the most power packed kind, with the Redneck Block Party.
Located at 10300 West Main Road, North East, Gravel Pit Park is North East's largest outdoor area for festivals and events, and has played host to countless fairs, celebrations, and parties of all kinds.
This Saturday is one of the biggest and hottest wingdings ever to play the Pit, with seven of the most power packed and high throttle bands in Erie that include Moonshine, Next of Kin, Refuge, Mayflower Hill, Taylor-Maid, Ralph Chamberlain Jr Band, and Sean Patrick and the Newgrass Revolution.
The massive conglomeration of talent and party in a box will also offer a "Red Solo Cup Toss" with a huge beer pong, along with "Corn Noodling", a "Redneck Toilet Seat Toss",  and a "Redneck Seed Spitting Contest",  along with the "Redneck Tricked Out Truck Competition",  all with their own very cool rules and prizes.
As the MC of the entire night of craziness, the Redneck Block Party's host will be DJ Bill Page, the smoothest DJ around, spinning the maddest jams in town.
Taking "DJ" to the extreme, Bill Page makes every show a real badass bash, spinning the maddest jams in town, cranking out the best pulse pounding, heart throbbing music in Erie, Bill Page offers everyone who comes to an event he DJs the best hard rockn' time.
The Redneck Block Party will have the best in wears offered by great vendors like Destello Jewelry, One of a Kind Leather, Klenz Farms, Head West Outfitters, Redneck Gear and FRBR at Yankee Lake Truck Night, along with Dorn Archery Barn, Skin Care by Doug Erick, KelsisKreations, The Boot Box, Redneck Kettle Korn, 410 BBQ, Big Kev's Inflatable Funhouse and Photo Booths to capture the memories.
At noon the party kicks off with the hard driving Country and Classic Rock sounds of the Moonshine band featuring Dennis Baumann on Lead Vocals, Jesse Spellman on Lead Guitar, Steve Kinnear on Rhythm Guitar, Joe Halloran on Bass Guitar, and Shawn Baumbaugh on Drums. Moonshine cranks out the best top 40 hits, with rockn' covers of your favorite Classic Rock tunes thrown in for good measure.
Next up, the Mayflower Hill band takes the stage and rocks the Pit at 1:30 with their totally fresh brand of Country Rock. With Tyler Woodruff on Lead Vocals and Guitar, Jared Cooney on Lead Guitar and Back-up Vocals, Steven Soliwoda on Bass and Back-up Vocals, along with Dave Tucker on Percussion, Mayflower Hill's wicked originals will fire up a frenzy and get your fingers snapping and your feet moving.
With high-throttle energy, Ralph Chamberlain Jr Band blasts out the pure Country and rocks your world at 3pm featuring Jerry Chamberlain on Guitar, Ricky Lee Jennings on Guitar and Mandolin, Paul Nejman on Bass Guitar, Vince Gorski III on Drums and Percussion, along with Ralph Chamberlain Jr on Vocals and Guitars.
Next up in this insane collection of mega talented musicians is Sean Patrick and the Newgrass Revolution, a one-of-a-kind band, with a bitchn' sound that takes original to new levels. Fronted by local musical icon Sean-Patrick on Lead Vocals, Banjo, Acoustic Guitar, Uke, Mandolin, the Newgrass Revolution is made up of Tony Kellogg on Lead Guitar and Backup Vocals, Paul Dolak on Bass and Backup Vocals, and Drew Burt on Percussions and Backup Vocals.
Six o'clock sizzles as Taylor-Maid heats up the night, steals the show with their badass covers, super charged energy, and mad sass pumping off the stage.
Made up of Taylor Herbstritt on Lead Vocals, Jim Buman on Lead Guitar and Vocals, Pati Williams on Bass Guitar and Vocals, Chuck Alloway on Drums,and Rob Morrison on Keyboard, Violin, and Vocals, Taylor-Maid offers passion and power on overdrive, insane vocals, and killer presentation of the best Country and Classic Rock gold by artists such as Joan Jett, Trick Pony, Pat Benatar and many more.
Saving one of the best for next to last, Refuge turns up the heat and cranks up the mad party with their super high throttle Country hits like Brooks & Dunn's "Honky Tonk Stomp" and "Smoke A Little Smoke" by Eric Church, "Crazytown" by Jason Aldean, and Luke Bryan's "Rain Is A Good Thing",  Refuge Rocks the house and cranks up a crazy Country party.
Refuge is Ryan Krysiak on Lead Guitar, Marlay Shollenberger on Lead Guitar, Corey Williams on Drums, Tim Reed on Bass Guitar and Vocals along with Dan Baney on Lead Vocals, Rhythm Guitar, and Harmonica.
As a powerhouse Country music sensation, Next Of Kin rounds out the night and brings the noise and the musical madness with a hard driving edge, firing-up every crowd they perform for with massive guitars, wailing vocals, and mad drumming.
Blowing the roof off every show they play with supercharged songs and off the hook musicianship, Next Of Kin is one of Erie's hardest playing, and hardest partying bands, and is made up of Bill Krasinski on Vocals, Slide Guitar and Lead Guitar, Michael Mannarino on Vocals and Rhythm Guitar, Douglas Hart on Guitar,  Jeff Wiesen on Bass and Vocals, and Andy Gerbik on Keyboard and Vocals, along with Kevin Reynolds on Drums and Percussion.
Pounding out devastating, out of this world covers of the music of artists like Blake Shelton, Brad Paisley, Keith Urban, Keith Anderson, Chris LeDoux, Tim McGraw along with so many more, Next Of Kin cranks out some of the best Country music in town, with much of the best musicianship around.
The Redneck Block Party is sponsored by Doc Holliday's Bar & Grill, Gary Monahan's Truckin 4WD Center, J.A. Holtz Garage, Angie Craig's Bakery & Sweets, Great Lakes Towing and Repair, Off Road Express, CI Coatings, Widget Financial, McKean Snow Riders, Ray Wakley's Car Care & RV Center, Exclusive Auto Works, Engraved Imaging Company, Budweiser, Townline Tavern, and Dan's Rt. 8 Boardwalk.
Tickets for this massive Country Music bonanza of talent and party in a box are only $16.00 in advance, and $21.00 at the gate. Kids 7 years of age and under get in with no charge. A portion of the proceeds will be donated to 1st Responders and A Hunt of a Lifetime.
This weekend do your Saturday right, don't be anywhere else, get your crazy Country on and party like it's your last night at the biggest, wildest, balls-to-the-walls blow out bash of the weekend at the Redneck Block Party.
For more information on the Redneck Block Party, advanced tickets, or other info, please visit www.facebook.com/RED.NECK.BLOCK.PARTY.