ZazaCast Films Releases New Feature Length Documentary "Art of the Bag – A Speed Bag Story"
"Art of the Bag"' follows the evolution of the speed bag through its history and shows that it's much more then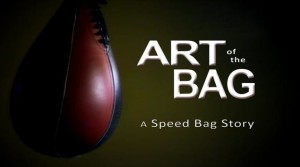 just a boxing exercise.
Focusing on Alan Kahn, author of "The Speed Bag Bible" and known as the 'Speed Bag King', you will hear his inspirational story and see some of the most talented speedbaggers and punchdrummers in the world explain why the speed bag is so addictive. Men and women alike, of all ages and abilities have found what is called 'Bible-Style' punching to settle the mind, build the body and be an all-around fun activity… an addiction that is good for you.
Beginning with the invention of the rubber punching ball (or what is now known as the speed bag or speed ball) in the late 1800's in Troy, NY, the film documents the history of its development over the years. From the days of 'Fancy Punching' Vaudeville acts to today's bible-style punchers it is still one of the best methods for developing hand speed, timing and eye-hand coordination.
Alan Kahn explains how he was first introduced to the speed bag and what led to his life's mission of creating a language or notation that anyone could read, understand and use to learn the various techniques and combinations that are known as 'Bible-Style' punching. Vintage footage along with in-depth interviews of the most advanced speedbaggers and punchdrummers of today, add insight into the Art of the Bag.