By Jenna Croyle
This week we take a trip back in time, back to a place where dynamic sounds and heavy, hard-hitting music was king, a time when bands like Alice In Chains, Nirvana, Green Day, and Pearl Jam ruled the air waves and rocked our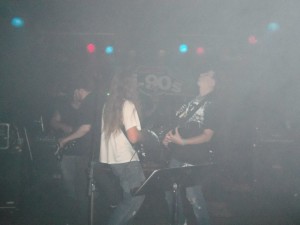 worlds.
This weekend's featured band, the I-90's, embody the Seattle sound with a hard driving, Rock Star attitude, blended with real talent that can't be denied.
The I-90's take yesterday's music and give it a fresh beat, original sound, and a new and supercharged energy that is completely captivating and charms their audiences at every show.
Made up of members, Bobby Makynen on Lead Guitar and Vocals, Brandon D. Nouzelle Catrow on Guitar, David Sabatine on Bass Guitar, Derek Tomporowski on Drums, and the incomparable Tito on Lead Vocals, the I-90's deliver the best that music has to offer, with the most talent one could muster on a local stage.
Covering the music of timeless Rockers such as Sublime, The Spin Doctors, The Wallflowers, Ugly Kid Joe, Pearl Jam, Gin Blossoms, Dishwalla, Better Than Ezra, and Nirvana, along with so many more, the I-90's pay homage to the funk and flavor, and the styles and music of the Generation X sound in stellar form, with dazzling presentation.
With no nonsense, all music all the time performances, and high throttle, give it all you got shows, the I-90's lay down brilliant renditions of songs like "Them Bones" by Alice In Chains, "Good" by Better Than Ezra, "All The Small Things" by Blink 182, "Shine" by Collective Soul, "New Age Girl" by Deadeye Dick, "When I Come Around" by Green Day, and "Creep" by Radiohead, to only mention a few shining examples of the I-90's repertoire.
The Lead Guitar of Bobby Makynen is bold, brash and raging, as he melodically glides through each song with the ease of a master fingerpicker, and his passion and talent for music clearly shines through gleamingly, the entire show.
Brandon D. Nouzelle Catrow's Guitar is simply stellar, offering a perfect compliment to not only Makynen's playing, but to the music as well. Catrow's perfect playing with talent rich style is always a joy, and without doubt, some of the best I've heard.
The Bass beats of David Sabatine are wide and wonderful, as he stands tall among the best Bassists in town, delivering perfect timing, melodic rhythms, and talent soaked performances each show.
As a legendary Erie performer, Tito fronts the I-90's with all the talent and veracity of a truly gifted musician, along with the stage presence and charisma of a Superstar. Tito blends his excitement for 90's music with an energy that makes the melodies soar, the audiences roar, and each show a new and explosive experience.
Plunge into Grunge, rage into Rock, and take a thrill ride on an alternative highway with the I-90's as they guide you down their superhighway of music and emotional release for a show experience like no other.
For more information on the I-90's, their show dates and booking information, please visit their Facebook Page.