A Wonderfully Twisted Mess
Station Dinner Theatre welcomes back the Dar-Kashians in another zany, celebrity spoof
By Rob Kocur
If you're a fan of reality TV, Hollywood drama, or just your own family drama, don't miss Station Dinner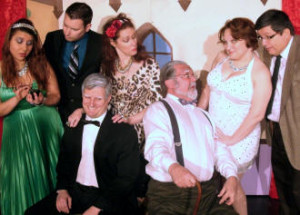 Theatre's The Dar-Kashian Post Holiday Special, the third and final installment of the Dar-Kashian trilogy, co-authored by David W. Mitchell and Adele Crotty-Gross and directed by Paul Urbanowicz.
The show begins with a legalese-inspired, over-the-top politically correct explanation as to why a Christmas holiday special is being presented in February. The lawyer is Mik Dar-Kashian, the gun toting, mobbed up patriarch of the family, played wonderfully by Station veteran, Rodger Dobry.
The story focuses obstensibly on a re-make of the classic A Christmas Carol, but the Dar-Kashians have something else in mind; a surprise reunion of Mik and his long estranged father, Nikolay Dar Kashian. Eventually, we have a murder mystery on our hands, with the subsequent explanation of the Dar-Kashian curse. Dr. Gil, played by Michael Nasca, is supposed to be the therapist/referee/ghost, but then finds himself playing detective. He is an amusing character with his Foghorn Leghorn stutter and wacky witticisms. "You don't need a herd of horses to make a sandwich."
The script is strewn with punch lines, and almost all of them work, though a few are either clichéd, or beg to be laughed at. All in all however, this is a very funny show, complete with a perfect cast with talent galore. Everyone gives a great performance, including relative newcomer, Tony Lewandowski, who plays Cole Digger, the exasperated husband of dim-witted Donna Marie Dar-Kashian Digger. Hopefully, we'll be seeing him in many productions to come. Veteran Carrie Smith plays Cole's mother, Frannie Dar-Kashian, the teetotaling co-narrator of the Christmas classic.
The standouts are the aforementioned Rodger Dobry as Mik, Larry Lewis as Nikolay Dar-Kashian, the curmudgeonly, slightly perverted grandfather who believes his son is an ungrateful, spoiled brat. Lewis plays the role exceptionally and his speech, facial expressions, and ceaseless tongue movements are nothing short of hysterical. He is usually seen with his voluptuous nurse Kandy and future murder victim, played by Katie States.
Jennifer Bussierre plays Donna Marie, a sort of "every" Kardashian daughter. She reminds one of the Saturday Night Live sketch featuring Nasim Pedrad impersonating Kim Kardashian, only I think Bussierre is better. Whether it's her designed costume for the Ghost of Christmas Present, or her air-headed observations such as "It's as plain as the ears on my face," her character never stops delivering.
While the story is farcical, it is also touching, especially toward the end, as the source of the feud between father and son is revealed. Gradually, we learn of yet another twist in the tale, and the inevitable reconciliation.
As always, the Station provides wonderful cuisine during three breaks; appetizer and salad, the main course, and dessert. Tonight's menu was tomato basil soup, ham and chicken, rice, baby carrots, and apple crisp. After reviewing a few of these shows, I believe some time could be saved in order to shorten the rather lengthy three and a half hour production. Perhaps less time between acts, or a serving time of 7 p.m. on the dot, would help.
So, if you're in the mood to laugh, and see some great acting all at the same time, then be sure to check out The Dar-Kashian Post Holiday Special.
There will be no performances on February 21 or 22. The production will resume on February 28. For more information, call the Station Dinner Theatre & Tavern box office at 814-864-2022 or online at www.canterburyfeast.com.