Alec Chien To Perform Sixth of Eight Concerts Focusing on Works of Schubert and Chopin
Award-winning pianist Alec Chien will perform the sixth in an eight-concert series focusing on the major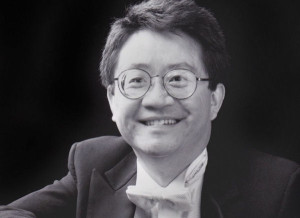 works of Franz Schubert and Frederic Chopin at 7:30 p.m. on Saturday, March 8, in Shafer Auditorium at Allegheny College. The concert is free and open to the public.
The program will feature Schubert's Piano Sonata in A Minor, D.845 and "Wanderer Fantasy" as well as Chopin's Sonata No. 3 in B Minor, Op. 58.
Chien is giving two concerts each academic year, in September and in March, with the final concert offered in 2015, when Allegheny will celebrate its bicentennial.
The series will include Schubert's nine sonatas, eight impromptus, Moment Musicaux and Wanderer Fantasy and Chopin's four scherzi, four ballades, two sonatas, the 24 preludes, four impromptus, Bercuse, Barcarolle, selected etudes, nocturnes, mazurkas, polonaises and fantasies.
Chien is artist-in-residence, professor of music and chair of the music department at Allegheny College.
He received his bachelor's, master's and doctor of musical arts degrees from the Juilliard School of Music, where he studied under Adele Marcus. Grand Prize Winner of the Gina Bachauer International Piano Competition and prize winner of the Sydney International Piano Competition, the Paloma O'Shea International Piano Competition and the Affiliate Artists Xerox Piano Program, he has performed in solo and chamber recitals and as soloist with orchestras on four continents, in concerts in Australia, Austria, China, Greece, Hong Kong, New Zealand, Poland, Spain and Taiwan.
Among the major symphony orchestras that have featured him as soloist are the Philadelphia Orchestra, Pittsburgh Symphony, St. Louis Symphony, Utah Symphony, Atlanta Symphony, Buffalo Philharmonic, New Zealand Symphony, American Symphony and Hong Kong Philharmonic.
In 1988 Chien was one of 25 Steinway artists to perform at the gala concert at Carnegie Hall in New York City to celebrate the piano company's 135th anniversary as well as its 500,000th piano. That commemorative piano has been brought to Allegheny twice for his solo recitals.
He also actively performs in chamber music, having appeared with members of the New York Philharmonic and the Philadelphia Orchestra as well as with the Alexander String Quartet, the Cavani String Quartet and the Ariel Woodwinds Quintet.
Last fall, at the invitation of the College of Fine Arts at Carnegie Mellon University, Chien started teaching piano literature and repertoire for the school's graduate piano program as a visiting lecturer.
Honored in 1986 as Meadville's "adopted native son," Chien has brought his music to the Crawford County school districts, performing and speaking to students in both the high schools and elementary schools. His recitals have also been part of the bicentennial celebrations of the cities of Meadville and Erie.
In 2008 Chien concluded a seven-concert series in which he performed all 32 of the piano sonatas of Ludwig van Beethoven.