Two-day Photojournalism Conference at Allegheny College to Tell "The Story Next Door"
Award-winning journalists from across the country, including three Pulitzer Prize winners, will help college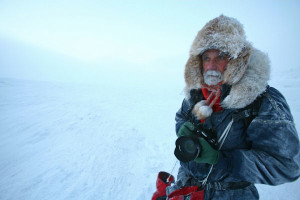 students and community members document "The Story Next Door" at a two-day conference exploring community journalism in action. The conference, on March 7-8 at Allegheny College, is free and open to the public and requires no preregistration.
"This is a grand storytelling experiment that brings top professional journalists to present their work and mentor students during a weekend multimedia project," said Cheryl Hatch, visiting assistant professor of journalism in the public interest at Allegheny. "Together we'll bridge the campus and community and partner journalists who've excelled in their field with students who aspire to their profession. We will learn from one another, share stories and create a portrait of Meadville through multiple voices and visions."
The storytelling component of the conference, on Friday, March 7, will be a sunrise-to-sunset multimedia documentary. Members of the community are welcome to join students from Allegheny College and Ohio University, which is partnering with Allegheny on the project, as they spread throughout Meadville to capture stories. Participants are encouraged to sign up for shifts and are not expected to work the entire day.
Editing facilities and support, an "open newsroom" for the day in the lobby of the Vukovich Center for Communication Arts, will give students and other participants a real sense of what it is to work in a newsroom under deadline.
Students will present the results of their day's work in "The Story Next Door," a presentation at 7:30 p.m. on Saturday. All of the conference's presentations will be held in the Gladys Mullenix Black Theatre of the Vukovich Center for Communication Arts.
The conference schedule also includes:
• "The Adventures of an Arctic Gator: 30 Years of Alaskan Photojournalism" at 7 p.m. on Friday, with Allegheny alumnus Richard Murphy, a Pulitzer Prize winner and former director of photography at the Anchorage Daily News;
• "Putting the I in Genuine," at 10:30 a.m. on Saturday, with Preston Gannaway, an independent documentary photographer who won a Pulitzer Prize for feature photography; and
• "Only Visiting This Planet," at 2 p.m. on Saturday, with Michael S. Williamson, Pulitzer Prize-winning photographer of The Washington Post.
In addition, a panel discussion will follow Murphy's presentation on Friday night.
Four other visiting journalists also will work alongside students and others during the conference: Stan Alost, an associate professor in the School of Visual Communication at Ohio University with more than 20 years of experience as a photo editor and photojournalist; Nicole Frugé, deputy director of photography for the San Francisco Chronicle; Larry James, who reported for the Voice of America (VOA) from more than 50 countries; and Sonja Pace, managing editor of VOA News.
The conference grew out of a class at Allegheny College, Journalism 300, Multimedia Journalism. Students in the class have been involved at every level in planning the conference, from research to hosting the visitors to storytelling.
In addition to the presentation on Saturday night, the students' work will be featured in a special edition of the Allegheny College student newspaper, The Campus, and online. Conference organizers are also exploring the possibility of adding the special edition of The Campus as an insert to The Meadville Tribune.
The Story Next Door conference is made possible through funding from the John C. Sturtevant Memorial Lectureship and through the Women's Studies program at Allegheny College. Additional sponsors are The Campus, the School of Visual Communication at Ohio University and the Scripps College of Communication.
Steve Prince, artist-in-residence at Allegheny College, is working with students to create a T-shirt for participants to identify them as they go out into the community. T-shirts will also be for sale.
Last year's conference, "Documents of War: the Ethics and Challenges of Visual Storytelling," helped inaugurate the Journalism in the Public Interest program at Allegheny College.
For more information on "The Story Next Door" – or to suggest story ideas – contact Cheryl Hatch at chatch@allegheny.edu or 814-332-3237.