Arts & Drafts Celebrates its 10th Anniversary
By Julie Caldwell
This weekend, Thursday February 1st through Saturday February 3rd, the Brewerie at Union Station located at 123 W 14th St, will host the 10th Anniversary of Erie's favorite independent arts and music festival. Since its inaugural event, the Arts & Drafts Fest has been hosted by the Brewerie in the historic Union Station building in downtown Erie.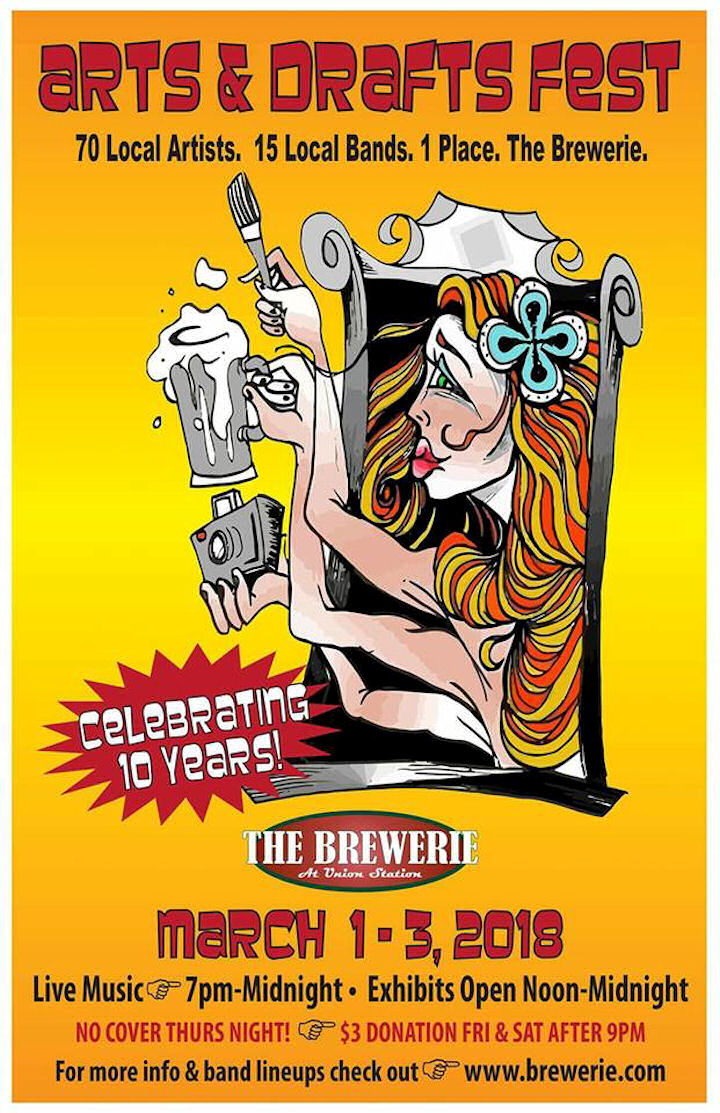 Among all of the bits of distinctive history that Union Station can boast about is that during his 1st campaign for presidency Franklin D. Roosevelt made a whistle stop in Erie at the station, in 1948 President Harry Truman also came through the station, making visits in the early 50's were baseball's legend Babe Ruth and Heavyweight Boxing Champ Jack Dempsey who spent about an hour in the Union Depot.
More recently, in 2008, ABC's Good Morning America team made a visit to the station. The morning show was on a whistle stop tour of 50 states in 50 days.
Now as the home Erie's finest brewer of handcrafted ales, with a one of a kind menu of outstanding food and fantastic service and a charm that is truly second to none in the City, the Brewerie at Union Station has dedicated their brewery to those who came before them so that they may be here now.
The Brewerie at Union Station offers their customers more than just a great dining experience, they serve up much more than just tasty treats that come in all shapes, sizes and flavors, they offer each patron that real hometown goodness that comes from a love of people, of food and of brewing, delivering it all with a smile every time.
The Arts and Drafts Fest gives the Erie community a chance to experience a distinctive look at a number of the region's most exceptionally talented artists and musicians over the course of the entire three day event.
The Arts & Drafts Fest is designed to offer artists and musicians alike, the opportunity to platform their talent and their work for the Erie community to not only enjoy, but as an event the people of Erie can actively participate in as well.
Arts & Drafts Fest features a slew of the best local artists and musical performers, showing their work and pounding the sounds, throughout the event.
This year's festival of art and music is open from Noon until Midnight each day, and is open to all ages after 6:30pm each day with no cover charge.
As shining examples of how much diversity and truly world-class musicianship we have right here in our own backyard, this event will include 14 musical artists Jesse Michael, Onewayness, Justin Moyar, Bootjack, Dear Brutus, Tommy Link, Paolello & Gone, Cult Classics, Broke Boland Band, Christopher Beiswanger, Claire Stuczynski, Josh Travis, Basket Eddy, and Brooke Surgener
This year's event will include works from 70 local artists Elisa Abercrombie, Jason Amatangelo, Aylna Amatangelo, Austin Amatangelo, Douglas Bailey, Christopher A Beiswanger, Kirsten Bole, Kelsie Bulger, Kevin Burfield, Jessica Callerder, Patrick Catalde, Jennifer Christina, Erin Daras, Victoria Dempsey, Evan K Everhart, Michael Engro, Kerrie Fargiorgio, Eric Fargiorgio, Jared Faulkner, Collen Elizabeth Flatley, Austin Fiedler, Fred Fiedler, Derick Fiedler, Jess Gabbard, Dana Genest, Andrew Germain, Roman Glass, Alexis Glass, Carol Griffiths, John Griffiths, Amy Zuck Gaughan, Randy Harris, Leslie Fiolek Hess, Roxann Marie Hudock, Elise von Hurler, Danial Irving, David Karaise, Jessica Kimmel, Craig Krugger, Mark Leffingwell, Katie LeVan, Vance Lupher, Joshua Makowski, Johnny Matters, Patricia Mazza, Jared McCaly, Hardy McCullum II, Joe Merski, Shaina Renea Michael, Emily Miller, Noah Moraski, Vicki Newell, Jocelyn Olin, Philip D. Orinko,Luke Powers, Cassie Resta, Kris Risto, Matter Rose, Nikki Rossa, Jess Scutella, Tom Ski, Andrew Sontheimer, David A Steele, Matthew Blake Steger, Nate Sulecki, Aaron M. Sutton, Jennifer Terry, Corey Thompson, Bryan Toy, Dylan Vanord, Ron Vollentine, Derrick Voricci, Robert Weber, Jacque White, and Das Wicklenstein.
For an opportunity to check out and even purchase some great art, hear amazing music by phenomenal musicians, please stop by this year's Arts & Drafts Fest, the hottest spot in town this weekend and the best time you can have in one weekend.
For more information of the Arts & Drafts Fest, band line up and showing artists, please visit their Facebook Page.