Author Linda Maria Frank Chosen As Finalist In '50 Great Writers You Should Be Reading'
Frank was chosen as the result of a public voting process. Her work, entitled 'The Madonna Ghost: An Annie Tillery Mystery', is a mystery thriller for young readers that has received rave reviews from readers
Linda Maria Frank, author of 'The Madonna Ghost', has been chosen as a finalist in the '50 Great Writers You Should Be Reading' Awards contest. The contest is sponsored by The Authors Show.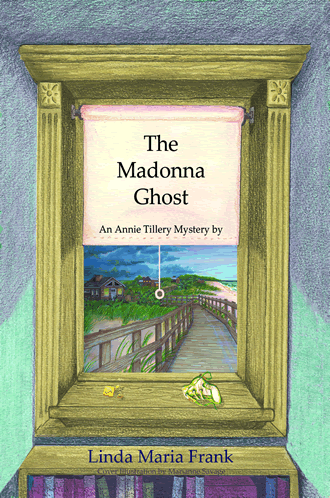 'The Madonna Ghost', written in the tradition of Nancy Drew mysteries, has been called 'Nancy Drew meets CSI'. Unlike many books in the genre, the book features real world forensic science.
"Being a finalist in the '50 Great Writers You Should Be Reading contest'," Frank stated, "is an important and satisfying experience. From a professional viewpoint, authors build a reputation by getting recognition from three things; exposure on media, reviews from respected sources, and awards from contests. The Author Show Interview, the Contest and marketing strategies have afforded me these important planks in my marketing platform. Purely from the standpoint of writing as an art, it is a thrill to have someone read your work and like it. It spurs me to continue writing with new confidence. I am grateful to have this opportunity to showcase my book and reach my audience of girls who love adventure."
In the storyline of 'The Madonna Ghost', seventeen-year-old Annie Tillery and her Aunt Jill set off for Long Island's Fire Island for a vacation of surf, sun, and sailing. Annie is happy to leave behind the stress of her relationship with her parents. Aunt Jill, who is an NYPD detective, is mixing her vacation with a case she must keep secret from Annie, who is suspicious nevertheless. Annie finds romance and intrigue when she meets Ty Egan, the nephew of their host on the island. They find themselves in the middle of an eerie adventure when she and Ty investigate the tragic and perplexing story of a local ghost.
Annie becomes increasingly uneasy and the investigation turns sinister when Aunt Jill goes missing, the ghost appears, and the troublesome neighbors in the cottage next door become hostile. When they find one of Aunt Jill's special earrings on the neighbor's porch, they begin to wonder what she was doing there. Will they find Aunt Jill before it's too late? In the breathless conclusion to their investigation, Annie and Ty narrowly escape death solving the mystery of The Madonna Ghost.
The book has a perfect 5 star rating on Amazon. One reviewer stated, "Linda Frank might as well be the next Carolyn Keene with her new age mystery luring readers from every angle–suspense, romance, and modern forensics. This is a perfect book for all ages, particularly young readers who might find Nancy Drew a bit old-fashioned. Written in a way where every chapter leaves you with a crisp, familiar image of each character and location."
Linda Marie Frank is available for media interviews and can be reached using the information below, or by email at annietillerymysteries546@gmail.com. All of Linda Frank's works are available at Amazon. Readers are encouraged to vote at http://votewinners2013.questionpro.com/. More information is available at Frank's website.
Linda Marie Frank is a native of New York City. Her life-long career has been in teaching. She taught in Seaford, in the Middle School when it was a Junior High, and in the High School. She taught science, ending her career in the high school as Department Chairperson, teaching biology, chemistry and forensic science. She went on to teach at Hofstra University, forensic science and biotechnology. She also supervised science student teachers at Adelphi University.
It was her forensic science courses coupled with her love of Nancy Drew and other mystery heroes that led her to write the Annie Tillery Mysteries, 'The Madonna Ghost' and 'Girl With Pencil, Drawing'.
She was awarded the Seaford High School Teacher of the Year in 1989, and received an award from the American Association of University Women in 1995 for inspiring young women to pursue the field of science.
Frank also produces a TV show, The Writer's Dream, on LTV-EH, a local access station in East Hampton, as well as Long Island Cablevision.