MelodyFusion.com's "Band Gear Giveaway" Receives Standing Ovation
Melody Fusion – the Musicians' Social Music Website
MelodyFusion.com officially launches their all new "Music Networking and Enthusiast Portal" with the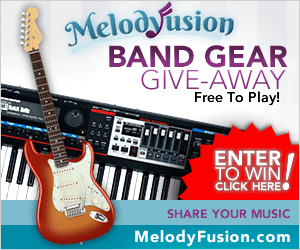 announcement of an unlimited entry, "Band Gear Giveaway". One lucky, grand prize winner receives a brand name, high-end musical instrument valued at over $2,000.
To celebrate the official launch, the Melody Fusion Team wanted to go with something fun and exciting. Something that would attract the very type of musicians and fans MelodyFusion.com wants to serve. Entering & participating in the Band Gear Giveaway is free via their website; http://www.MelodyFusion.com. Entries can be earned a number of ways including; signing in daily, posting music tracks, "idolizing" favorite bands and tracks, posting Master Classes, reviewing a "gig" and other fun ways to discover the websites great features. The website offers a great online community for fans, musicians, promoters, venue owners, and music lovers while providing them all a chance to win.
The Band Gear Giveaway has one of 5 great instruments up for grabs; win either a Roland TD15KV Compact Series Electronic Drum Kit, or a Roland Juno-Gi Mobile Synthesizer with Digital Recorder, or a Fender American Deluxe Stratocaster Electric Guitar, or a Fender Deluxe Precision Bass Guitar, or a Martin & Co. Performing Artists Dreadnought Acoustic Electric Guitar.
In our recent interview regarding the launch of MelodyFusion.com, Martin Robinson (one of the founders of Melody Fusion) said, "Musicians' passion is creating music; and for me, the passion is helping musicians bring to the world the music that's in their souls. Melody Fusion is here to help aspiring musicians reach their greatest potential. But we don't consider Melody Fusion "our website." We see Melody Fusion belonging to the Melody Fusion community – so the website will be what the Melody Fusion community wants it to be."
A few years ago, (in 2007, to be exact), three ordinary guys—in three different countries—started a conversation about three passions: music, creativity, and helping people. From that initial discussion, the concept of Melody Fusion was born, and in 2013, that concept was turned into a real live website, where music, creativity and helping people all converge.
Melody Fusion is a website designed and operated for one major purpose – to help you fulfill your musical dreams. They'll help you accomplish this by giving you a platform to share your music and a place to find other people with your same passion, all for free.