Behind the Art: Patrick Flatley
New Passions on Display at the Spring Show
At 61, Patrick Flatley has seen much of the world but has one regret.  "I never seemed to have a camera with me! I've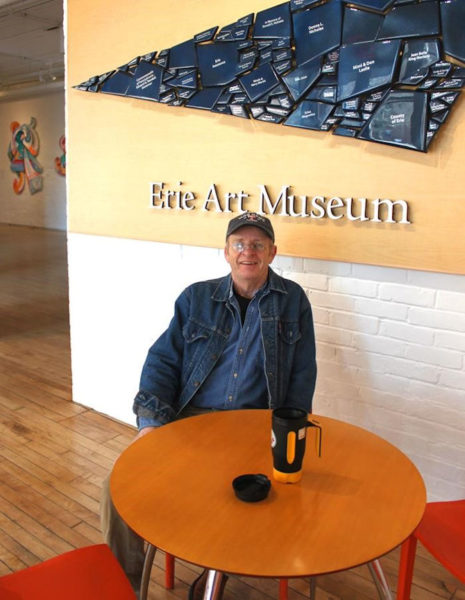 been to Mexico, Skid Row, the places I've seen and the people…I never took a picture. Wish I had."
Perhaps Patrick's passion for observing the people and places around him is what inspired him to volunteer two years ago at the Erie Art Museum.
It was shortly after becoming a "regular" that Patrick discovered the array of classes offered by the Art Museum. "Basic Photography was the first class I took here with Denise Keim.  She's a professor at Edinboro.  I admire everything she does–the things she's taught me–she doesn't even realize some of the things she's taught me," he says.
Denise's classes fueled Patrick's passion, igniting his talent for photography which had lain dormant for so long. Last year, Patrick debuted as an artist in the Erie Art Museum's Annual Spring Show. This year, he has two pieces in the show. "I couldn't believe it when they told me I was in for the second time.  It was just incredible," he says.  From volunteer to juried artist, Patrick's lens on life is inspiration for us all.
Patrick's advice to emerging photographers, "Wear good shoes," he says laughing.  "Denise taught me that—you never know where you're going to be taking pictures!"
This is just one of the incredible artists whose work is on display this year. If you get to see one of the artists participating in the Annual Spring Show ask them about their story behind the art!
The Erie Art Museum will hold an opening reception for the 93rd Annual Spring Show free to the public on Sunday, April 17th from 1:00-3:00 p.m. The Spring Show will be on view in the Erie Art Museum's Main Gallery through July 2016.