Cleveland Kidnapping Hero Charles Ramsey Signs Book Deal
Includes Memoirs about Ramsey's Life Before, During and After the Famous Rescue.
Charles Ramsey, the man credited with rescuing three kidnapped women in Cleveland, has signed a deal to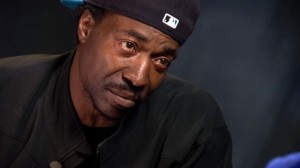 write a book of memoirs about his life before, during and after the famous rescue.
Ramsey made international headlines on May 6, 2013, when he helped free Amanda Berry, Gina DeJesus, Michelle Knight, and Berry's 6-year-old daughter from their long captivity.
In interviews after the event, Ramsey's unfiltered description of the rescue and blunt opinions on race, class and life in the inner city made him an instant, if unlikely, celebrity.
Since the rescue, Ramsey has been pursued by well wishers and the national media. Restaurants offered him free food for life (he declined) and named hamburgers after him (he asked them not to). He was the subject of a video game (without his permission). And his on-air remarks were remixed into a viral music video that has been viewed more than 19 million times.
"What you saw on TV doesn't even begin to tell the story," Ramsey said.
Ramsey signed a book deal with Gray & Company, Publishers of Cleveland on Thursday.
Ramsey will tell his story with the help of co-author Randy Nyerges. Nyerges co-wrote "Day of the Dawg" (2012, Gray & Co.) with former Cleveland Browns defensive back Hanford Dixon. He has also served as a staff speechwriter in the U.S. Senate.
Ramsey and Nyerges have been working together on the book since early December.
"Charles says outrageous things, but what a story he has," Nyerges said. "America doesn't know yet how truly brilliant this guy is."
In his book, Ramsey will give a detailed account of the day of the rescue. He'll describe living next door to kidnapper Ariel Castro while unaware that the women were being held captive in his neighbor's house. He'll tell what it was like to become an instant celebrity. (For example, he says he learned the hard way that when a national TV show flies you to New York City for an interview, that doesn't mean they also bought you a return ticket to Cleveland.)
Ramsey will also write candidly about his life before the rescue, including growing up as a black kid in a mostly white neighborhood, getting into trouble in school, serving three stints in prison, and, after release, working as a dishwasher and in various odd jobs to make ends meet.
The book, which does not yet have a title, will be published in spring 2014.
Gray & Company, Publishers is an independent publisher located in Cleveland, OH. For more information, visit the company's web site at http://www.grayco.com