PACA presents: An Evening of Jazz with the Tim & Tito Pascoal Band
Friday, January 10, 2014
PACA 1505 State St. 2nd Floor, Erie
Doors @ 7p | Show @ 8p | Admission: $5 | BYOB w/ I.D.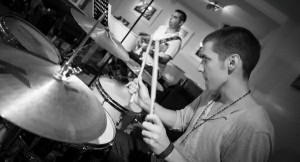 International drummer Tito Pascoal (drummer for Joe Robinson) has put together a trio and is swinging through town to play an evening of jazz music at PACA.
[ Click Here to reserve your seats ]
Born in Cascais, Portugal on April 28th, 1994. Tito was three years old, when his family moved to Boston so his father could pursue his studies at Berklee College of Music.
Tito started playing the drums around the age of 6. Studied many different styles of music. At age 10, Tito began working professionally. His first CD "Walk the Walk," was released in 2007 when Tito was twelve years old. The CD features special guests, Bob Mintzer, Tom Kennedy, Dave Weckl. He acquired experience as a live performer and studio musician and maintains a steady schedule both in US and abroad. The newest CD "The Sun Stood Still", was released in July 2011 again accompanied by musicians such as Tim Pascoal, Richard Bona, Evan Marien, Russell Ferrante, Bob Mintzer, Tom Kennedy.
In 2013, Tito toured in the USA, Canada and Europe.. Concerts, Drum Festivals and Drum Masterclasses through out the year.
Tito has played and recorded with: Bob Mintzer, Richard Bona, Dave Weckl, Evan Marien, Russell Ferrante, Hadrien Feraud, Tom Kennedy, Jonas Hellborg, Joe Robinson, Mitch Cairns, Coco Jones, Tim Pascoal, Wolfgang Fuhr, Axel Kuhn, Andrew Riezebeek, Tony Sgro, Yannick Soccal, Rafael Paseiro, Mauricio Zottarelli, Gustavo Assis-Brasil.