D'Angelo Opera Theatre Stages 'The Magic Flute'
The D'Angelo Opera Theatre at Mercyhurst University will stage The Magic Flute, the last and perhaps greatest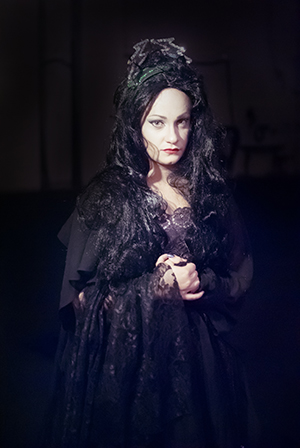 opera composed by Wolfgang Amadeus Mozart, for two performances April 15 and 17.
Artistic director Louisa Jonason says the popular opera pairs glorious Mozart music with a simple, fairy tale-like story of a battle between good and evil. Performed in English, the opera alternates spoken dialogue with the musical numbers, making it accessible even to opera novices and a great introduction to opera for children.
"Children just love The Magic Flute," she says, "because it's much like other stories they enjoy, from Walt Disney to Harry Potter. The costumes help them follow the story, with the bad characters in black and the good ones in light colors."
The large cast enables Jonason to feature 16 Mercyhurst music students in major roles, along with eight students in the ensemble and others performing in the orchestra.
Brandon Alan Miller plays Tamino, a young prince who enters a quest to win the hand of the princess, Pamina (Shelby Maberry). Throughout the story, Tamino is caught between two powerful figures: Sarastro (Luke Ballantyne), who leads him through his search for wisdom and symbolizes the power of reason; and the evil Queen of the Night, who tries to destroy Sarastro and lure Tamino and Pamina into her power; she represents irrationality. The role of the Queen of the Night, arguably the highest and most difficult role in opera, will be played by Victoria McIlvain on Friday and by Elizabeth Klucher on Sunday.
The "magic flute" of the title is given to Tamino by three spirits to assist him as he undergoes a series of tests to prove his worthiness. The tests – silence, fire and water – are similar to those found in Freemasonry, a fraternal order that promoted the triumph of reason and virtue over irrationality and evil. Freemasonry was popular during the Enlightenment and Mozart was a member.
James Bobick provides stage direction and Dr. Joseph Kneer conducts the orchestra. Jonason created the costumes, while student Sarah Krempasky (who's also singing the featured role of Papageno) provides the fanciful character makeup.
Jonason and the production team designed a three-level set, representing the upper world, Earth and the lower world, while Andrew Ferguson designed the lighting.
The Magic Flute will be presented on Friday, April 15, at 8 p.m. and on Sunday, April 17, at 2 p.m. in the Mary D'Angelo Performing Arts Center at Mercyhurst.
Tickets are $15.50 for adults; $12.50 for seniors and students: and $5 for youths 12 and under and for Mercyhurst students with ID. Visit miac.mercyhurst.edu or call the box office at 814-824-3000 to purchase tickets.