Distinguished Author and Global Futurist Jack Uldrich to Receive the Bellwether Award in February
Futurist Jack Uldrich to join the ranks of Michio Kaku, Jacqui Banazynski, Alan Deutschman and Leslie Crutchfield as 2014's Bellwether Book Award Winner.
For the past 20 years, the Community College Futures
Assembly has recognized one trend-setting book that they believe will impact the future of community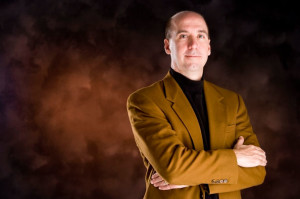 colleges on a national level. As this year's recipient, global futurist and technology forecaster, Jack Uldrich has been selected to receive the award for his latest book, Foresight 2020: A Futurist Explores the Trends Transforming Tomorrow. As part of the ceremony, Uldrich will also deliver the opening keynote address at the Futures Assembly in February.
Every year the CCFA "convenes as an independent national policy forum for key opinion leaders to work as a
"think tank" in identifying critical issues facing the future of community colleges. A select group of up to 300
trustees, CEOs, college presidents, and administrators from over 30 states participate in this annual independent policy think tank.
In addition to recognition of the Bellwether recipients, the Futures Assembly holds a policy summit where members of an expert panel focus on the forces of globalization and the changes in demographics and technology that are rapidly affecting the workplace as well as educational institutions. Co-sponsoring organizations from around the country have been invited to help examine the extent community colleges are prepared to address the needs of the future workforce, identify potential gaps and develop recommendations for policy-makers."
Uldrich, a best selling author, in his keynote address will share highlights from "Foresight 2020" as well as 2011 best-seller, "Higher Unlearning: 39 Post Requisite Lessons for Achieving a Successful Future". (A sample of some of Uldrich's ideas on the future of trends in higher education can be found in this chapter from "Foresight 2020", or this recent Forbes article, 10 Game-Changing Technological Trends Transforming Tomorrow.
In 2013 alone, Uldrich addressed hundreds of business groups around the world, including delivering customized keynote presentations to Invensys, United Healthcare, Bausch and Lomb, Boston Scientific, Optus, Eaton, the European Association of International Educators, the Council for Advancement and Support of Education, the Rochester Institute of Technology and scores of other corporations, associations and private organizations.
Parties interested in learning more about his other presentations are encouraged to visit his website or contact him directly at jackmuldrich@gmail.com. Media wishing to know more about the event or interviewing Jack can contact Catherine Glynn. Uldrich is a renowned global futurist, technology forecaster, best-selling author, editor of the monthly newsletter, The Exponential Executive, and host of the award-winning website, http://www.jumpthecurve.net.