Edinboro University, Wqln Team Up To Examine Life Of Stephen Hawking
Edinboro University and WQLN Public Media are collaborating to host a documentary screening that focuses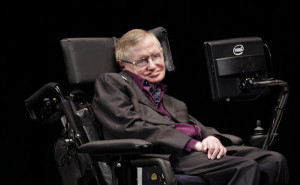 on the career of physicist Stephen Hawking at 7 p.m. on Thursday, Jan. 23, in Room 107A of Compton Hall on the Edinboro campus.
The event features an advance screening of the PBS documentary "Hawking," which will air locally on WQLN-TV 54 on Jan. 29 at 10 p.m.  The program is the first-ever autobiographical documentary of Hawking's life and career, highlighting some of his more remarkable discoveries, including the nature of black holes.
WQLN President Tom New will introduce the documentary. Dr. Richard Lloyd, chair of EU's Department of Physics and Technology, will offer brief remarks reflecting on Hawking's contributions to the field of physics.
Hawking has sold more than 10 million books and received the Presidential Medal of Freedom. The famed physicist became paralyzed due to motor neuron disease, but his intellectual brilliance, refusal to quit and trademark dry wit have propelled him to international fame.
"We are excited to once again be collaborating with WQLN to bring our campus and the community an opportunity to have an advance look at a fabulous piece of journalism, in this case a documentary that examines the life of one of the great scientists of our time," said Dr. Tony Peyronel, chair of the Department of Communication and Media Studies. "The tremendous response to our screening of the PBS/Frontline documentary 'League of Denial: The NFL's Concussion Crisis' back in October made us eager to work with Tom New and WQLN again."
The event is hosted by Edinboro's Department of Communication and Media Studies. The screening of "Hawking" is free and open to the public.