Allegheny College Art Galleries To Present the Marcellus Shale Documentary Project
The art galleries of Allegheny College will present the Marcellus Shale Documentary Project from January 21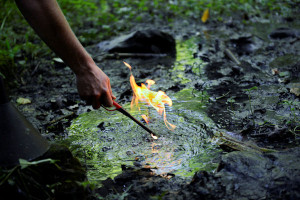 through February 26. A panel discussion at 7 p.m. on Tuesday, Jan. 21 in Doane Hall A104 will be followed by a reception at 8 p.m. in the galleries. All gallery events are free and open to the public.
Curated by Project Director Brian Cohen, the exhibition tells stories, through photographic images, of how the lives of Pennsylvanians are affected by the Marcellus Shale gas industry.
By creating a visual document of the environmental, social and economic impact of drilling, the work engages communities in the current Marcellus debate while providing important historical images for the future.
In capturing images of the people and places most affected by gas drilling, photographers Noah Addis, Nina Berman, Brian Cohen, Scott Goldsmith, Lynn Johnson and Martha Rial examine both the positive and the negative results of drilling, including how it shapes the environment and communities.
Organized by Brian Cohen and Laura Domencic, director of Pittsburgh Center for the Arts, the traveling exhibition was launched in October 2012 at Pittsburgh Filmmakers, with accompanying lectures, book and an online archive, which can be viewed at http://the-msdp.us/.
The Marcellus Shale Documentary Project is generously supported by The Sprout Fund, The Pittsburgh Foundation, The Heinz Endowments and the individual gifts of Josh Whetzel, Nancy Bernstein and Cathy Raphael. The exhibition is supported in part by Pennsylvania Partners in the Arts (PPA), the regional arts funding partnership of the Pennsylvania Council on the Arts, a state agency.
Gallery hours are Tuesday through Friday, 12:30-5 p.m.; Saturday, 1:30-5 p.m.; and Sunday, 2-4 p.m. Visitors are asked to call ahead to verify hours, since programs are subject to change.
The Art Galleries, which are wheelchair accessible, are located in Doane Hall of Art, east of North Main Street between College and John Streets in Meadville.
For more information, phone 814-332-4365 or visit www.allegheny.edu/artgalleries.