Exhibit at Allegheny College Art Galleries to Showcase Faculty and Alumni Work
The art galleries of Allegheny College will present the college's annual faculty and alumni exhibit from Tuesday, Oct. 1,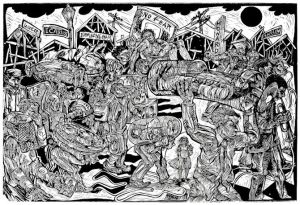 through Tuesday, Oct. 29. The artists will talk about their work at 7 p.m. on Oct. 1, with a reception following in the galleries from 8 to 9 p.m. Both the exhibit and the reception are free and open to the public.
The exhibit will feature a variety of works by Allegheny faculty members Sue Buck, Amara Geffen, Cheryl Hatch, Ben Haytock, Darren Lee Miller, George Roland and Richard Sayer, sculpture technician Ian F. Thomas, and the art department's 2013-2015 artist-in-residence, Steve Prince.
Alex Kropinak, who majored in art and technology as a student at Allegheny College, will also exhibit. A 2007 graduate of the college, Kropinak creates animated content for Marvel Entertainment's website. He will also be leading an animation workshop for Allegheny students during his visit to the college on "Gator Day," Tuesday, Oct. 29.
The exhibition is supported in part by Pennsylvania Partners in the Arts (PPA), the regional arts funding partnership of the Pennsylvania Council on the Arts, a state agency.
Gallery hours are Tuesday through Friday, 12:30-5 p.m.; Saturday, 1:30-5 p.m.; and Sunday, 2-4 p.m. The galleries will be closed Oct. 12-15 for the college's fall break. Visitors are asked to call ahead to verify hours, since programs are subject to change. All events are free and open to the public.
The Art Galleries, which are wheelchair accessible, are located in Doane Hall of Art, east of North Main Street between College and John Streets in Meadville.
For more information, phone (814) 332-4365 or visit www.allegheny.edu/artgalleries.